Miromar Outlet Accidents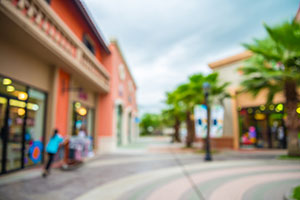 Suffering personal injuries due to accidents in Miromar Outlets can happen. When you go there, maybe you're focused only on shopping and entertaining yourself because you trust the outlet owner and stores to provide you with a safe environment. But sometimes, that promise is broken, and some innocent person suffers.
If you or a loved one is injured in Miromar Outlet in Fort Myers, then you may be entitled to damages recovery for the harms and losses you've suffered. Our Fort Myers Miromar Outlet accident lawyers at Wolfson & Leon have helped clients get properly compensated for injuries in shopping stores since 1963 and we are here to help you too. Call us now for your free and confidential consultation at (239) 777-9954 and let's discuss your legal options.
Miromar Outlet
Miromar Outlet is one of the largest shopping outlets in Southwest Florida. It is in Estero, at 10801 Corkscrew Rd. It has been voted the Best Shopping Mall and the Best Factory Outlet Mall in Southwest Florida. It features more than 140 brands, including Calvin Klein, Bloomingdale's, Guess, True Religion, Adidas, Gap, Swarovski, Greg Norman, Lacoste, Samsonite, Under Armour, Reebok, Levi's, Puma, Crocs, Chico, Vans, Abercrombie & Fitch, Banana Republic, Michael Kors, Fossil, Ralph Lauren, US Polo Assn, Converse, Tommy Hilfiger, Hurley, Asics, and many others.
Aside from shopping, Miromar Outlets abounds with dining options, including Starbucks, Subway, Le Macaron, Luna Pizza, Mr. Pretzels, Beef Jerky Outlet, Wasabi Japanese Steak House and Sushi Lounge, Norman Love Confections, and others. Of course, Miromar Outlets host plenty of entertainment events as well. They pride themselves as a pet-friendly mall. The amenities of the Miromar Outlet include bike racks, ATMs, nursing area, climbing fun walls, strollers, gas station on site, bus stop, banks, and others.
Miromar Outlet Accidents
The accidents occurring at Miromar Outlets do not differ from those at other shopping malls in South Florida. The most common are:
Slip and fall accidents in Miromar Outlet
Miromar Outlet trip and fall accidents
Wrongful death accidents at Miromar Outlet
Escalator/elevator accidents at Miromar Outlet
Miromar Outlet Uber and Lyft accidents at curb and traffic lanes
Car accidents at Miromar Outlet parking lots
Motorcycle accidents at Miromar Outlet parking lots
Pedestrian accidents at Miromar Outlet parking lots
Bicycle accidents at Miromar Outlet parking lots
Falling merchandise causing serious injuries at Miromar Outlet
Criminal assaults due to security negligence in Miromar Outlet
Crime victims assaulted or attacked at Miromar Outlet
Dog bite accidents at Miromar Outlet
Miromar Outlet Accidents Liability
If you are injured in any kind of accident at Miromar Outlet, you may be wondering who is liable for your injuries. When you call our Fort Myers shopping mall injury lawyers, we will explain to you the process of investigating and analyzing the facts of your accident and injuries. You should know that under the Florida premises liability laws, Miromar Outlet owes visitors a duty of reasonable care. That means that they must provide a reasonably safe environment for shopping and entertainment for their visitors. When they breach this duty due to negligence, it may lead to accidents and when these accidents cause injuries, Miromar Outlet may responsible to pay for the damages.
However, if you are injured at a store, a restaurant, or by other commercial objects in Miromar Outlet, it may mean that it's not the mall, but the store or the restaurant is liable. That's why you shouldn't do this alone but call a lawyer to help you determine which entity may be responsible and therefore should be held accountable. In our experience, it is not unusual to see more than one defendant in a shopping mall accident lawsuit.
Miromar Outlet Accident Attorneys
The Miromar Outlet accident lawyers at Wolfson & Leon will help you with any kind of injury sustained in any kind of accident in Miromar Outlet. We have 50-plus years of experience in dealing with personal injuries, and we are at your service. Call us at (239) 777-9954 for free consultations. We don't ask for fees until we recover.
Wolfson & Leon can be found at 3049 Cleveland Ave #140, Fort Myers, FL 33901 and we serve the communities of Southwest Florida including Naples, Everglades City, Cape Coral, Marco Island, Golden Gate, North Naples, Lely Resort, Goodland, Lehigh Acres, Immokalee, Chokoloskee, Captiva, Island Walk, Lely, Boca Grande, Estero, , Alva, Fort Myers Beach, Vineyards, Naples Manor, Plantation Island, Orangetree, Pelican Bay, Naples Park, Pineland, Ochopee, Pine Ridge, Verona Walk, Bokeelia, Bonita Springs, Sanibel, Ave Maria, Saint James City, East Naples, North Fort Myers and Fort Myers.