Bicycle Accidents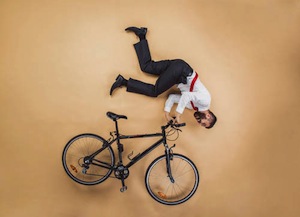 Riding your bicycle in the warm, summer sun is not only a great way to enjoy an afternoon, but it's also good for your health. Bicycles continue to be a popular way to commute to work, exercise, and spend a little time taking in the scenery. Although many Florida cities have created dedicated lanes for cyclists, most streets are not designed for cars and bicycles to share the road.
When drivers share the road with cyclists, they should give them the right-of-way. But that's not always the case. A driver may not see a cyclist on the road and pull out in front of them. Intersections can be particularly dangerous for cyclists. Drivers that run red lights, switch lanes, or turn in front of a bike can cause a cyclist to crash into their car or another object as they swerve to out of the way. A bicyclist may also fall off their bike trying to avoid a crash.
Throughout the nation, Florida ranks the highest in the country for bicyclist fatalities. If you or someone you love was injured in a bike accident that was the result of someone else's negligence, Wolfson & Leon will fight for your rights.
Common Injuries Facing Fort Myers Bicyclists
Riders who are hit by cars can suffer serious, even fatal, injuries. The impact of the crash can throw a cyclist off of their bike, causing them to hit their head on the hard pavement, sidewalk, or another car. This can result in serious injuries to the head, neck, and back. Even if a helmet is worn, it may not offer enough protection against traumatic brain injuries which can result if a cyclist's head hits a hard surface. When a cyclist is hit by a car, the force of the blow may cause internal injuries, broken bones, and deep lacerations. With most cyclist garments designed for sport, not protection, a rider that is thrown from their bike can suffer from painful road burns and scrapes.
Even injuries that appear to be relatively minor can financially impact a bike crash victim. If you were taken to the emergency room and received treatment, these bills can add up. Your doctor may have restricted your ability to work for a few days to allow your body to recover from the accident. Whether injuries are severe or minor, a bike crash can not only cause physical injury, it can create an enormous amount of financial stress on the victim. Our Fort Myers personal injury lawyers can protect your rights and help you to recover the compensation you need to recover from your injuries.
Florida Bicycling Accident Statistics
According to the Florida Highway Safety and Motor Vehicles, there were 6,675 bicycle accidents in Florida in 2017. Over 95% of these crashes resulted in a bicyclist injury or fatality. In Lee County, there were 3 fatalities and 200 injuries that resulted from the 216 reported bicycle crashes in 2017.
Florida Cycling Laws and Biker Rights
Under Florida law, a bicyclist is not required to wear a helmet. Without the use of protective gear, a crash involving a cyclist can result in extensive, even fatal, injuries. A cyclist that hits their head in a crash can suffer from traumatic brain injuries that can require weeks, even months, of recovery and rehabilitation. In some cases, these injuries can impact the quality of your life. They can impact your ability to move, think, and take care of yourself without help.
The driver of the car that was involved in the crash may attempt to use the fact that a helmet was not worn as a defense to not pay for your medical treatment. Known as contributory negligence, the state of Florida does not allow this practice. Whether or not you were wearing a helmet does not change that a crash occurred and does not relieve the driver of their negligence. If you or someone you love was seriously injured in a bike crash, contact the Bicycle accident attorneys in Fort Myers. They will help you to build a case to recover monetary damages to pay for your medical treatment, replace wages that you've lost if you are unable to work, and pay for future care that you may need.
Bicyclists may be put in harm's way when drivers are unaware of the rules of the road. A driver must obey the following laws to help ensure the safety of bike riders, which include;
Yielding when a bicyclist is making a left-hand turn
Refraining from parking or operating their cars in bike lanes
Ensuring that bicycles are not passing by when they are opening their door
Passing cyclists on the left side, keeping a safe distance of at least 3 feet between their vehicle and the bike
Drivers who fail to follow the rules of the road can cause an accident and seriously injure a bike rider. Failure to yield or turning in front of a bike can cause the cyclist to hit your car or fall off. If they don't leave enough room between the car and the bicycle when passing, the cyclist can be pushed into another car or forced off the road. If the driver is exiting their car and doesn't check to make sure that a bicycle isn't approaching them, they can knock the cyclist off their bike, potentially putting them in a position of being hit by another car. If you were injured as the result of the negligence of a motorist, the Fort Myers bike accident lawyers can help you to recover the compensation you need to get your life back in order.
Call a Fort Myers Bicycle Accident Lawyer Today
Bicyclists who were seriously injured in an accident involving a car have rights. Speak with our Fort Myers personal injury and wrongful death attorneys for help in filing your case and pursuing compensation for your injuries. The personal injury lawyers at Wolfson & Leon are dedicated to helping injured victims and their families to receive the medical treatment and compensation you need to recover. We serve the communities of Fort Myers, Naples, Lehigh Acres, Cape Coral, Sanibel, Captiva, Estero, Golden Gate, North Fort Myers and Fort Myers Beach. Wolfson & Leon also has offices in Miami, Fort Lauderdale and West Palm Beach. Since 1963, our personal injury legal team has fought for injured victims. Find out what your rights are by calling Wolfson & Leon at (239) 777-9954 today.
FAQ
What Should I do if I Was hit by a Car While Riding my Bicycle?
If you were hit by a car while riding your bicycle, you should seek medical attention as soon as possible. Injuries may not always be evident at the time of the accident, so you must get checked out even if you feel ok. You should take to preserve your rights, such as getting the contact information and a copy of the insurance coverage of the driver involved in the accident. If there were any witnesses to the accident, get their names and phone numbers. Use a smartphone or camera and take pictures of the accident scene. Be sure to file a police report and get a copy for your records. Finally, speak with a personal injury lawyer to find out what compensation you may be entitled to if you were seriously hurt in the accident.
What are Common Bicycle Accidents in Fort Myers, Sanibel and Fort Myers Beach?
When cars and bicycles share the street, accidents are bound to happen. Bicycle accidents may occur when a car cuts off a cyclist by making a right turn in front of them. Vehicles that make a right or left-hand turn into traffic or pull out from a parking lot may hit an oncoming cyclist if they don't see them in time. The door of a parked car may be opened in the path of an oncoming cyclist. Drivers may cause an accident if they don't give cyclists the right of way in intersections, crosswalks, or when pulling out into traffic.
How do I Find The Best Bicycle Accident Lawyer in Fort Myers?
If you experienced painful injuries after being by a car while on your bicycle, you need to find the best bicycle accident attorney to represent your rights. You should take the time to do your homework and research lawyers who specialize in personal injury law. The best bicycle accident lawyer in Fort Myers should be knowledgeable and experienced in handling cases like yours. When you've narrowed down your choice, set up a free consultation to talk directly with the lawyer about your accident. Find out if they feel that you have a case and what it might be worth. Ask questions about who you would work with at the firm and how the settlement process works. If your case can't be settled with the insurance company, is the attorney comfortable representing your rights in court? The best bicycle accident lawyer should make you feel comfortable and confident with their ability to defend your rights.