Motorcycle Accidents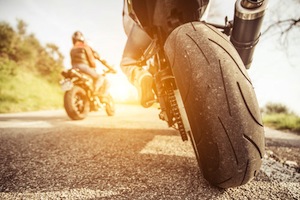 Florida's warm and sunny weather makes it a popular, year-round destination for motorcyclists. With more motorcycles on the road, the chances of accidents are much higher. Often, when a car and motorcycle collide – the fault lies with the driver of the car. A driver that isn't paying attention or didn't see the motorcycle can cause a great deal of harm to a motorcyclist. They may pull out in front of a motorcycle or cut them off by turning in front of them. Lee County alone experienced a 56% increase in motorcyclist injuries from 2010 to 2014.
If you were injured as the result of a motorcycle accident, please contact a Fort Myers motorcycle accident lawyer at Wolfson & Leon. We can discuss the specifics of your accident and what factors may have contributed to your injuries.
Motorcycle Helmet Laws
In the state of Florida, riders are not required to wear a helmet if they are over the age of 21 and carry a minimum of $10,000 in medical insurance coverage. If you aren't wearing a helmet, you can sustain greater injuries as your head is not protected. A motorcyclist that hits their head on the road, curb, or another hard object can cause substantial injury to their brain, which can impact the quality of their life. In 50% of fatal motorcycle accidents in Florida in 2013, the motorcyclist was not wearing a helmet.
Even if you weren't wearing a helmet, that doesn't mean you aren't entitled to damages if you were injured. A helmet is intended to keep you safe in the event of a fall or accident, but they aren't a replacement for another driver's negligence. If you were hurt in a motorcycle accident, you need to speak with a Fort Myers motorcycle injury lawyer.
Fort Myers Motorcycle Accident Injuries
Sadly, motorcyclists involved in a crash end up with serious injuries. Without the protective shield and safety features found in a car, anyone riding on a motorcycle can be thrown from their bike if they are hit by a car. Or they may fall off of their bike if they are trying to avoid an accident. Motorcycle accidents can result in serious injuries including painful road burns, deep cuts and scrapes, broken bones, neck and back injuries, internal organ damage, and trauma to the brain. These injuries may be so severe that they can dramatically impact your quality of life. Life-changing injuries, such as broken bones, vision loss, and partial paralysis can interfere with your ability to handle everyday activities.
Recovering from a motorcycle accident can take weeks, even months. During this time, you may be confined to a hospital bed, require surgery or other medical treatment, and need physical rehabilitation. Even if you are released to go home, your recovery time can be extensive. It's not uncommon for an accident victim to need the help of a family member or a medical professional with daily activities, especially if your injuries limit your mobility.
Extensive injuries may prevent you from working. If you aren't bringing home a paycheck, this can cause serious financial hardship for you and your family. You need to protect your rights and speak with a Fort Myers motorcycle injury lawyer today.
If you delay in getting an experienced lawyer to defend your rights, it will only add to the financial stress in your life and may even impact the quality of the decisions that you make. Insurance companies often rush to settle as a means to keep their payouts as low as possible. If you are struggling financially, you may just want to get it over with and take whatever they offer. A fast settlement is usually not in the best interest of a crash victim. You need a Fort Myers motorcycle accident lawyer to evaluate your case and determine how much compensation you need to pay for your medical bills and lost wages. Taking on an insurance company without legal representation can cost you dearly in the long run.
How Can a Fort Myers Motorcycle Accident Injury Attorney Help You?
The last thing that an injured victim wants to deal with is paperwork and phone calls. A Fort Myers motorcycle accident lawyer can help you by building your case, evaluating the monetary damages that you need for your recovery, and submitting the necessary documents to file your claim. They communicate directly with the insurance company and represent your interests to negotiate a settlement. A personal injury attorney works on your behalf – you are always kept in the loop and make the final decision to accept a settlement or pursue further legal action.
Fort Myers Motorcycle Accident Law Firm
For over 55 years, the personal injury attorneys at Wolfson & Leon have defended the rights of victims injured in motorcycle accidents. We are dedicated to getting justice for you and your family. We offer a free consultation where we can answer your questions and discuss your options. Find out what your rights are by calling (239) 777-9954 today.
FAQ
If I Share Partial Blame for an Accident on my Motorcycle, am I Entitled to Receive Damages if I was Severely Hurt?
Even if you share partial blame for an accident on your motorcycle, it still may be possible to recoup monetary compensation if you were severely injured. The State of Florida follows comparative fault rules for accidents. This rule means that any compensation awarded for damages is reduced by the percentage of fault assigned to you. As long as you are not found to be 100% to blame for the crash and your injuries are significant, you may be entitled to recover compensation for medical treatment, current lost wages and future earnings, property damage, and pain and suffering.
I Was Severely Hurt in a Motorcycle Crash, but I Can't Afford to Hire an Attorney. What Should I do?
At Wolfson & Leon, our motorcycle crash accident lawyers work on a contingency basis. That means you won't pay legal fees for our services unless we recover monetary damages on your case. With our confidential consultation, you can find out what rights you have, ask questions, and learn how the process works for filing a lawsuit – at no cost to you. If you decide to pursue a case, you don't have to worry about paying for legal fees to protect your interests and defend your rights. Once a settlement is reached, any legal fees due are paid out of your settlement.
How do I Find The Best Fort Myers Motorcycle Accident Lawyer?
Given the severity of injuries that result from a motorcycle accident, you need to find the best Fort Myers personal injury attorney to represent your interests. Accidents involving motorcycles may have complexities where the skill and experience of a Fort Myers motorcycle accident lawyer is needed to help you get the compensation you need. It's a good idea to find an attorney that is knowledgeable and regularly defends cases involving personal injury law. You should schedule a free evaluation of your accident to find out if you have a claim, what it might be worth, and how the attorney would defend your rights. This consultation is also the time to ask any questions that you may have about who you will work with, how long the process might take, and what to do about medical bills and lost wages until a settlement is reached.