Truck Accidents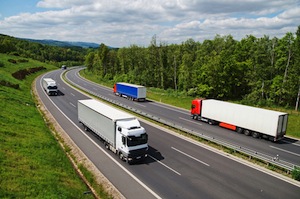 On any day, you can see a variety of large trucks barreling down the highways in Florida. New construction and renovation often brings heavy cement and dump trucks to building sites. Massive 18-wheelers and large delivery trucks are often used by supermarkets to bring food and large retailers to deliver goods to their location.
Cars and motorcycles traveling on the highway may find themselves in harm's way when large trucks are around. The sheer size of a large truck can make it difficult for it to stop when driving on city streets and highways. And if the truck is carrying a load of gravel, cement, or packed with inventory – stopping can be nearly impossible. In other cases, a large truck can cause an accident if their load isn't secured properly, cause objects to fly off onto the roads or hit another car. Large trucks also have several moving parts that can break and malfunction, such as hydraulic systems and brakes. Rainy Florida afternoons can create safety hazards, such as slick roads and poor visibility, adding to the dangers of sharing the roads with large trucks.
Determining Liability for a Trucking Accident
Cases that arise from large truck accidents may pose hidden complexities. An injured victim has the burden of proof to show that the truck driver was negligent. This means that they need to show that the truck driver had a responsibility and duty that was breached. This can be something as simple as a truck driver having the duty to stop at a red light. If they run the red light, this may be a breach of their duty. As a result of this negligence, you were physically injured and financially impacted.
Another complexity is identifying who was responsible for the accident. On the surface, the logical person would be the truck driver. This may be the case if they were driving too fast or carelessly operating their truck. However, there may be other parties that contributed to the accident. The company that the driver works for may not have properly trained them on how to secure the load in the back or may not have ensured the truck was properly maintained. The truck itself may be leased from another company, who could have some responsibility if the truck has defective parts.
Fort Myers Truck Accident Investigation
Since an accident that involving a large truck could easily have multiple parties who share responsibility, you need a Fort Myers large truck accident attorney on your side. A personal injury lawyer who investigates your case will also consider other factors such as;
Was the truck driver qualified? Companies need to make sure that they hire qualified truck drivers. The driver should have the proper license to operate a large truck and the company should have provided the appropriate training so that the driver knows how to safely operate the truck. Truck drivers should undergo a background check and have their accident history reviewed before they are hired. Failure to do these things can lead to an accident.
Was the accident caused by a defect? A Fort Myers large truck attorney may call in an expert to determine if the accident was caused by a defective part or poor design. If defects played a role in the accident, your personal injury lawyer may file a lawsuit against the manufacturer of the part or of the truck.
Was the truck properly maintained? Your attorney may review service reports to determine if the truck was maintained as it should have been. Failure to properly maintain the truck may be the cause of the accident.
Fort Myers Truck Accident Settlement
Truck drivers are often working for big companies that can stand to lose a lot of money in a lawsuit. These companies may send their accident investigators to build a defense and limit their liability. They may use powerful insurance companies to pressure you into settling your case quickly and keeping it out of court.
Most of the time, the rush to settle early is not in your favor. Settling too soon can cost you dearly. If you were hurt in a large truck accident, you need to consult with a Fort Myers large truck accident lawyer as soon as possible. The attorneys at Wolfson & Leon are dedicated to representing the best interests of their clients. They can evaluate the financial impact of your injuries to help you win a proper settlement for your injuries. Not only do they look at your current medical bills, but your attorney will consider the money that you've lost when you couldn't work and how much you need for future rehabilitation and care.
Contact a Fort Myers Truck Accident Lawyer
If you were injured in an accident involving a large truck, you need an attorney that knows Florida law on your side. They can thoroughly investigate your claim and determine if you have a case. They will work on your behalf and correspond directly with the responsible parties and their insurance companies. A Fort Myers truck accident attorney will represent your interests and pursue a settlement on your behalf. If negotiation is not an option, they will defend your case in court.
Since 1963, Wolfson & Leon has defended the rights of victims injured in accidents. We represent clients in Fort Myers, Cape Coral, Naples, Lehigh Acres, Sanibel Island, Marco Island, and their surrounding communities. If you were injured in an accident involving a large truck, contact Wolfson & Leon to understand what your rights are. Your first consultation is always free – it costs you nothing to find out what options are available to you. Call us today at (239) 777-9954.
FAQ
Who is Responsible for Paying for my Medical Bills if I was hit by a Large Truck on the Highway?
If a large truck accident caused severe injuries, multiple parties might share responsibility for the accident. More than one party may be liable for paying for your medical bills. If the driver of the truck found negligent, they may be held responsible. However, if a trucking company employs them, both the driver and the company may share responsibility for the accident. Shared liability may be the case if the company failed to check the history of the driver, the truck did not undergo routine maintenance, or necessary repairs were not made. If the owner of the truck may be different than the company that operates it, they may share the liability in an accident if they failed to maintain the vehicle. Outside vendors who supply parts or perform checks on the drivers may also share responsibility if you can prove the parts were defective or the company was negligent in their duties.
Why are Accidents With Large Trucks so Dangerous?
Due to their size and weight, an accident involving a large truck can be devastating to others on the road. A large truck may be a tractor-trailer, commercial truck, or construction vehicle. Many times, these vehicles are transporting heavy cargo, equipment, or machinery. When a large truck is traveling on the road at high speed, their sheer size and excessive weight might make it difficult for the truck to stop safely. When a car is hit by a large truck traveling at high speed or carrying a large load, it can result in devastating injuries, even death. Drivers of large trucks may be unable to easily see the sides and rear of the truck while driving. This lack of visibility can pose a hazard to other cars on the road if the truck driver switches lanes or backs out without having a clear view of what's around the vehicle.
How do I Find the Best Fort Myers Large Truck Accident Attorney?
If you were severely hurt in an accident involving a large truck, you need to find the best personal injury lawyer to protect your rights. These cases are often complex and require a high level of skill and expertise. Victims injured by large trucks may have extensive and life-altering injuries, so it's critical to find the best Fort Myers large truck accident lawyer to represent you. Choose a large truck accident attorney that regularly handles cases like yours. They should be knowledgeable about personal injury law and be willing to answer the questions that you have. Inquire about their background, how they would handle your case, and what you can expect. Large truck accidents may require the use of an outside specialist, so be sure to ask if the law firm is financially able to do this if your case requires it. Be sure to take the time to find the best Fort Myers large truck accident attorney that you are comfortable working with to help ensure that you recover the compensation you need.