Slip and Fall Accidents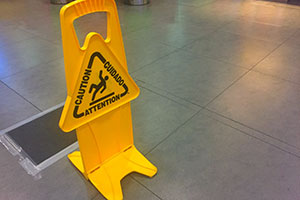 When you slip or trip and fall, you feel embarrassed because everyone is looking at you for no good reason, but don't rush to blame yourself for that. Your actions may not be the reason why you fell. If you have fallen due to slipping on a spilled liquid or other substances somewhere other than your home, it is entirely possible that it was someone else's fault and that you may be able to claim damages from the liable person or company.
If you have been injured in a slip and fall accident in Fort Myers, you may be entitled to recover compensation for the injury you have sustained due to the negligence of others. You should speak with the best Fort Myers slip and fall lawyer you can find to understand the law and the property owner's liability and responsibility.
Our Fort Myers slip and fall attorneys at the Wolfson Law Firm can help. We have been serving injury victims in Florida since 1963 and we are here to help you get the justice and compensation that you deserve. Call us at (239) 777-9954 for your free consultation. We will examine your case, let you know what your options are, and help you decide whether to pursue a claim for personal injuries and damages.
Do You Have a Good Fort Myers Slip and Fall Case?
When a client reaches out to us for free consultations, we listen his or her story attentively. We ask necessary questions to clarify all the facts about your accident. We want to know every single detail because that's how a strong case is built. When needed, we will work with your doctor and other experts to prove certain important facts. We will employ investigators and slip and fall experts to assist us in determining if you have a strong slip and fall case in Fort Myers and whether you should pursue money damages.
Fort Myers Slip and Fall Settlements
If our investigation of your case shows that you have a good case, we will prepare a settlement package for the defendant and their insurance company. We will demand full, fair and complete compensation for your injuries and damages. We will set a reasonable time to respond, and if they don't, a lawsuit will be filed against them on your behalf. They will try to prolong the case, but we have dealt with the "delay, deny and don't pay" strategy for more than five decades. We know what to do and what it will take to get your case resolved efficiently through settlement, trial or even an appeal when necessary. Never forget - justice delayed is justice denied.
Fort Myers Slip and Fall Lawsuits
If the defendant and the insurance company don't want to settle for a fair compensation, we will file a lawsuit. Before getting a trial date, the court will order a mediation between the parties. Even though our Fort Myers personal injury lawyers desire successful settlement to save you time and energy, they approach these negotiations as if there would be a trial. Defendants and insurance companies would not be serious if we don't show them that we are prepared to face them in court, but when they realize that we are prepared to go to trial to get you the compensation you deserve, they usually come forward with more reasonable proposals to settle your case.
If we don't reach a settlement with full and fair compensation, then we will go to trial and when necessary, file an appeal. It is important to note that we always endeavor to provide the best possible legal service to our clients in an aggressive yet professional manner. We never refer cases to other firms, but we accept referred cases from other law firms. At the Wolfson Law Firm, our Fort Myers personal injury attorneys will be by your side from the first call through the final resolution of your case.
Free Consultation for Fort Myers Slip and Fall Victims
When you contact us for free consultations, we can provide you with information about:
Slip and fall injuries in Fort Myers
Unreasonable slippery surfaces in Fort Myers
What to do after slip and fall in Fort Myers
Types of evidence in Fort Myers slip and fall accidents
What you should know about slip and fall injuries in Fort Myers
No warning signs for slippery floors in Fort Myers
What the Fort Myers stores should have to prevent your slip and fall
Slip and fall on private property and public property
Fort Myers trip and fall accidents and injuries
Negligent security cases in Fort Myers
Fort Myers Slip and Fall Accident Lawyers
If you happen to be injured in a slip and fall accident in Fort Myers, whether it is in a convenience store, gas station, supermarket, bank, or any commercial business, call our Fort Myers slip and fall attorneys at the Wolfson Law Firm to help you determine if you are entitled to damages recovery. You can reach us at (239) 777-9954 for your free and confidential consultation. You don't pay us fees unless we recover for you.
The Wolfson Law Firm is located at 3049 Cleveland Ave #140, Fort Myers, FL 33901. We also serve the communities of Cape Coral, Fort Myers, Sanibel, Fort Myers Beach, Alva, Bokeelia, Buckingham, San Carlos Park, Estero, Burnt Store Marina, Gateway, Fort Myers Shores, Captiva, Charleston Park, Bonita Springs, Cypress Lake, Whiskey Creek, Harlem Heights, Iona, Tanglewood, Lehigh Acres, Lochmoor Waterway Estates, Matlacha, Suncoast Estates, Matlacha Isles-Matlacha Shores, St. James City, McGregor, North Fort Myers, Olga, Page Park, Three Oaks, Palmona Park, Tice, Pine Island Center, Boca Grande, Pine Manor, Babcock Ranch, Pineland and Punta Rassa.
FAQ
What Damages Can I Recover if I Was Hurt in A Slip and Fall Accident?
When you have been severely injured in a slip and fall accident that was not your fault, you might receive monetary damages. This compensation is used to pay for expensive medical treatments, hospital stays, and doctor visits. You may also be awarded compensation to pay for transportation to see your doctor and in-home care if your injuries require it.
Accident victims may receive compensation for wages that they lost when they were unable to work. If your injuries caused a permanent disability that may limit your future earning potential, payment may be awarded to you.
What Should You do if You Have Been Injured in a Slip and Fall Accident?
If you have been hurt in a slip and fall accident, you need to take steps to document the cause and extent of your injuries. This includes reporting the injury to a manager and getting a copy of any accident reports that were completed. Take pictures of the spot of the area where the accident occurred. If your injuries were extensive, seek medical attention immediately. Even if you feel ok after the fall, you should still see a doctor.
In some cases, your injuries may not be evident for a few hours or a few days after your fall. Further damage can be caused if you have an untreated injury. Finally, you should speak with a Fort Myers slip and fall accident lawyer to understand your rights and the compensation you may be entitled to if you were hurt.
How do I Find The Best Fort Myers Slip and Fall, Accident Lawyer?
If you were hurt in a slip and fall accident, you need to find the best lawyer to defend your rights. Take the time to interview potential law firms that specialize in personal injury cases like yours. Selecting a firm that handles slip and fall accidents now and then may not be in your best interest. Don't be afraid to inquire about their experience and success rate. Find out how they would represent your rights when negotiating with the insurance company and if they can defend your interests in court. Inquire about the process of filing a lawsuit and what you can expect during the process. Be sure to ask if you will work directly with the personal injury attorney or with their staff. You should be comfortable with the personal injury law firm that is defending your rights, so take the time to understand learn how the process works and ask questions about the firm.