Train Accidents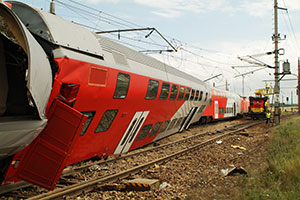 Historically, trains have played a large role in the development of Florida. In the 1800s, Henry Plant and Henry Flagler were instrumental in establishing train lines along the west and east coasts of Florida, helping to bring new people to the state and established a faster way to transport goods.
While most of Florida relies on cars or buses to get around, trains are becoming more popular every day. Government-run Amtrak has several stations dotted throughout the west coast, including Fort Myers. Headquartered in Fort Myers, the Seminole Gulf Railway is a short line train company that moves freight and people throughout Southwest Florida.
As trains continue to be a popular method of travel and a quick way to move goods throughout the state, there is an increased chance that an accident can occur. Train accidents that have resulted in a fatality have increased since 2014, with Florida having the 11th highest death rate in the country.
Fort Myers Railroad Crossing Train Accidents and Injuries
A common location for train accidents occur is at railroad crossings. In some cases, cars or pedestrians may not adhere to the rules of the road and stop when the lights flash and barriers come down. Other times, these accidents may be the result of faulty equipment. When the warning lights or alarms don't come on or the barriers aren't lowered, drivers and pedestrians may be unaware of an approaching train and be hit while trying to cross.
Conductor error may also contribute to accidents at railroad crossings. A distracted driver may fail to give enough warning to car and pedestrian traffic as the train is approaching. If they are traveling at an unsafe speed, they can misjudge the distance to the upcoming crossing and not give sufficient notice.
Pedestrians account for 65% of train accident injuries. The sheer force and size of a train can cause extensive injuries when a pedestrian is hit by a train. Brain trauma, internal organ damage, broken bones, and spinal cord damage can result in serious injuries with life-long effects. Injured victims may endure weeks or months of medical procedures and rehabilitation. Continuing or in-home care may be necessary if injuries are life-altering.
Train passengers can also be injured in train accidents. Passengers rushing to get to the station may be hit when crossing the tracks. They can fall when entering or exiting the train. While inside, passengers can slip on spilled drinks or water that may have been tracked in, resulting in a host of injuries. Bags, luggage, or other objects cluttering the aisles can cause people to trip and fall.
Responsibility of Fort Myers Train Companies
Train companies have a responsibility to ensure the reasonable safety of their passengers. When an injury results from a train company's failure to maintain safe conditions, they can be considered negligent and may be required to pay monetary damages for the injured party's medical care and lost wages. Even in cases where a passenger may have contributed to the accident, a train company may have partial responsibility and be required to pay monetary damages.
Fort Myers Train Injury Attorneys
If you or someone you love was injured in a train accident, you should seek legal advice. The high cost of medical treatment, along with the loss of income, can cause serious financial difficulties for injured victims. In some cases, a lack of funds may prevent them from getting the care that they need.
A Fort Myers train accident lawyer will review the specifics of your accident and advise you of your legal options. In some cases, there could be other factors that contributed to the accident. An experienced Fort Myers personal injury lawyer may bring in experts to evaluate your accident to determine if you have a claim.
Accident victims need to focus their energy on recovery, not worrying about medical bills and legalities. If you do choose to pursue legal action, a Fort Myers train accident lawyer will help build your case and file the claim on your behalf. They will take care of the phone calls with insurance companies and their lawyers and will represent your best interests when negotiating a settlement. If your case goes to court, they will defend your rights against big railroad and insurance companies.
The Fort Myers train accident attorneys at Wolfson & Leon represent people who were hurt in train accidents. Since 1963, they have helped injured victims and their families to recover the compensation they need to pay for medical bills and lost wages that were the result of a train accident. If you've been injured and want to know what your rights are, contact us today for a free evaluation of your case. We can answer your questions and explain your legal options. Don't wait – call (305) 285-1115 today.