Premises Liability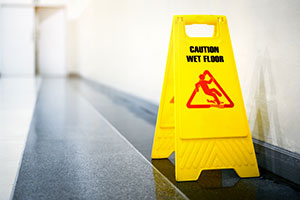 What is the Meaning of Premises Liability?
Most people understand the meaning of a premises, as well as a liability, but it is imperative to understand what premises liability is. When it comes to a premises or property that is owned by a company or individual, they are liable for any interactions that occur on that premises. This would include unfortunate circumstances where an individual may be injured while on the property. They question then leads to why an injury occurred on the premises in the first place? Seeing as the owner is responsible for maintaining a safe environment for other people, if or when an accident occurs, the owner would be liable for the injuries that were sustained.
At Wolfson & Leon, our Fort Myers slip and fall attorneys are premises liability lawyers that work to ensure safety guidelines are met and upheld by property owners in order to protect individuals from serious injuries due to a slip and fall. We also have experienced negligent security attorneys in Fort Myers who fight to protect people from becoming victims of crime due to negligent securities standards of a property. These two areas of law are within the scope of premises liability law, along with other as well.
Premises Liability Law Important and Why it is Important?
When you need to purchase groceries, house supplies, clothing or other miscellaneous goods, you need to visit your local businesses to purchase these products. In Fort Myers, these businesses can range from Publix to Home Depot to Target. In order to acquire your essential needs, you will have to make your way to these stores or others as well. In doing so, your only thought is enjoying the shopping experience and purchasing the select goods, but not the potential hazards of the premises. That is because the consumers conduct their days normally with the assumption the property that they are visiting is safe for them to utilize. This is the unspoken trust that we have in a business that we decide to invest our money in for their products and services.
Unfortunately, there are times when these properties may not be safe. It may not be intentional, and it may not be the fault of an entire company, but rather possibly insufficient safety guidelines or even the negligence of a single individual. The approved safety parameters are implemented to keep the consumers and workers safe while using the premises. With the amount of businesses and consumers in Fort Myers, it is not a matter of if an accident happens, but rather when an accident will happen. That it why is the property owners are to be held liable for any slip and falls that occur on the premises.
Premises liability not only helps to protect the safety of people, but also to hold companies accountable for providing proper safety parameters. If the property owners decided to cut corners to save money and are not held responsible for accidents that occur, then this will set a wider precedence for other companies as well. If they can get away with not paying for an injury that you sustained while on their property, then why would they pay the necessary money to keep it safe. That is why accountability for the premise's liability is of the utmost importance.
Hazardous Property Conditions
The Fort Myers personal injury attorneys at Wolfson & Leon represents clients that have been injured in premises liability cases that include all sort of hazardous property conditions. These can include:
Slip and fall from moveable objects
Slip and fall from unnecessarily slippery walking areas
Slip and fall from poorly maintained floors with slippery mold or growth buildup
Insufficient maintenance of the property resulting in trip and fall injury
Uneven sidewalks that result in a trip and fall
Potholes in parking lots causing trip and fall
Faulty conditions on the premises
Insufficient building security that led to injury or assault
Injuries sustained in swimming pools
Falling objects in produce facilities, apartment buildings, and retail stores
Trip and falls
Water leaks or flooding that result in a slip and fall accident
Hazardous toxic gases or chemicals
Exposed live electrical wires
Damaged concrete or stairs
Uneven stairs resulting in a fall
Insufficient lighting
Lack of surveillance cameras
Absence of proper guard railing
Lack of apartment safety
Inadequate maintenance of escalators or elevators
Fort Myers Premises Liability Serious Injury Lawyers
Our Fort Myers premises liability attorneys understand this importance and that is why we complete our due diligence to assure your injuries are rightfully compensated. We investigate every aspect of the slip and fall accident by conducting interviews with other onlookers that were present, reviewing security camera footage and even consulting property safety experts to help reveal the negligence of property owners.
It is also unfortunate that in most cases, we have found property owners may attempt to delete or alter potentially admissible evidence or let go of employees who may have been involved or witnessed what had occurred. This is done to avoid or alleviate the financial responsibility of the property owner. Also included with premises liability is negligent security law, which we will conduct the same thorough evaluation and analysis to ensure you are protected from these unfortunate events. When you hire us, we work to protect your interests and collect the evidence that is necessary for you to win your case.
Should you have any questions or feel that we may be able to assist you in fighting your case, contact our Fort Myers Liability Attorneys at Wolfson & Leon today for a free consultation to review your case.
FAQ
What Does Premises Liability Mean?
A property owner, operator, or manager has a responsibility to maintain a safe premise for people who visit. The concept of premise liability applies such places as stores, restaurants, and malls. If there is a dangerous condition, the owner or manager must take reasonable steps to fix the problem or notify visitors of the impending danger. When owners and managers fail to do so, they may be negligent if someone gets hurt.
When an employee at a grocery store mops a floor after a spill, the store should take steps to warn customers that the walking surface may be slippery. Even though the hazard is cleaned up, if the store fails to put up signs or block off the aisle, someone could slip and fall. Under premise liability, the owner or manager may be responsible for a visitor's injury.
Where do Premise Liability Accidents Happen?
A premise liability accident can happen just about anywhere. Some of the typical common accidents occur when people slip and fall in grocery stores, restaurants, or other business establishments. Slip and fall accidents frequently occur in places where there is a higher chance that liquid or other hazards may be present in walkways. However, premise liability accidents can also happen in parking lots, swimming pools, or shared areas of apartment buildings that aren't properly lit, supervised, or maintained.
How do I Find The Best Premises Liability Attorney?
Premises liability claims require specialized legal knowledge. When you need to find the best premises liability lawyer for your case, be prepared to ask questions. If the law firm offers a free consultation, find out what their qualifications are. Find out if you will work directly with the attorney, or do you deal with their staff? Does the firm focus on personal injury claims, such as yours? Will they use safety experts when building your case? If your case goes to court, can they defend your rights? When you take the time to ask about a personal injury attorney's experience, methods, and track record, it can give you an indication as to how they will handle your case.