Walmart Accidents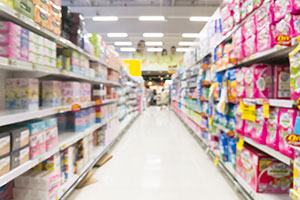 Have you been injured in a Fort Myers Walmart? You may be entitled to compensation for the injuries you have sustained. Call (239) 777-9954 for free consultations with the Fort Myers Walmart accident lawyers at the Wolfson Law Firm to determine whether you can claim damages or not.
You should know that Walmart can be liable for injuries sustained due to negligence on their premises. They take good care of shoppers, but mistakes happen, so do injuries. Call us and we will listen to you carefully and let you know what the options are. Our bilingual lawyers are at your service 24 hours per day, seven days a week.
Walmart in Fort Myers
Walmart is everywhere. The number of their stores increases steadily over the time. They started as a single store in Arkansas in 1962 and grew to become the favorite shopping place for Americans and the largest brick and mortar retail business in the United States. Walmart has stores in all the 50 states of the United States, including Florida. Worldwide, the number of stores is estimated to be more than 11,700.
Only in Florida, Walmart owns 377 retail locations with 107,000 employees. In Fort Myers, they are located at nine locations:
2523 Lee Blvd, Lehigh Acres, FL 33971 - Walmart Supercenter #2237
19975 S Tamiami Trail, Estero, FL 33928 - Walmart Supercenter
17105 San Carlos Blvd, Fort Myers Beach, FL 33931 - Walmart Pharmacy
9131 College Pkwy Ste 101, Fort Myers, FL 33919 - Walmart Neighborhood Market #5321
4770 Colonial Blvd, Fort Myers, FL 33966 - Walmart Supercenter #5034
14821 6 Mile Cypress Pkwy, Fort Myers, FL 33912 - Walmart Supercenter
1619 Del Prado Blvd S, Cape Coral, FL 33990 - Walmart Pharmacy
2020 NE Pine Island Rd, Cape Coral, FL 33909 - Walmart Pharmacy
545 Pine Island Rd, North Fort Myers, FL 33903 - Walmart Supercenter
Fort Myers Walmart Accidents
It is obvious that Walmart is here to stay, but at the same time, good folks will continue to be hurt through no fault of their own. There are many types of harms that you could suffer there including:
Slip and fall accident in Walmart in Fort Myers
Fort Myers trip and fall Walmart accidents
Wrongly put or missing floor mats at Fort Myers Walmart
Car accidents in Walmart parking lots in Fort Myers
Motorcycle accidents at Walmart parking lots in Fort Myers
Fort Myers bicycle accidents in Walmart parking lots
Pedestrian accidents on Walmart parking lots in Fort Myers
Falling merchandise accidents in Fort Myers Walmart
Unsecured merchandise accidents in Walmart in Fort Myers
Improperly maintained entrance and exit doors at Walmart in Fort Myers
Food poisoning from improperly saved food in Walmart in Fort Myers
Cuts and lacerations from improperly maintained shopping carts in Walmart in Fort Myers
This is not an exhaustive list of Walmart accidents in Fort Myers where you could be hurt. These are just the most common that our Lee County Walmart injury lawyers have dealt with over the years. If you happen to be injured in another type of accident in Walmart, do not hesitate to call us and ask for help in determining whether you have a potential claim for damages against Walmart.
Fort Myers Walmart Responsibility
If you get injured at a Walmart store in Fort Myers, ensure you investigate if it was their fault or better yet, consult with the best Walmart accident and injury lawyer you can locate to help you. Under Florida premises liability laws, Walmart is liable for injuries sustained on their premises under certain circumstances. These laws oblige commercial businesses to provide a reasonably safe environment to their guests and visitors. Walmart invites people onto their premises; hence, they owe their visitors a duty of care. If they breach this duty due to negligence, and that leads to personal injuries, Walmart may be legally responsible to pay for the damages caused by their negligence.
Settlements with Walmart in Fort Myers
Maybe Walmart will offer you a settlement, or maybe not. If you thought that the accident was your fault and ran away embarrassed, they won't bother with you and your injuries. But, if you seek responsibility, they will probably offer you a certain amount of money as compensation. It might be tempting to grab the money and go on with your life, but many times, what they might offer to injured people is not enough to cover for all their harms and losses due to the injury. Later, you may regret accepting that, so it is strongly recommended that you not settle for anything before you speak to a Fort Myers Walmart injury attorney.
At the Wolfson Law Firm, our Fort Myers Walmart accident lawyers will investigate all the circumstances of your case to determine if you have a good case and whether you might be entitled to compensation. We will work with your physician, witnesses, experts and other persons who could prove certain facts in favor of your case. If the case is good, we will prepare a settlement proposal for Walmart and their insurance company. We will give them reasonable time to respond to us and possibly start negotiations. If they don't respond, we won't hesitate to file a lawsuit for you.
Lawsuits with Walmart in Fort Myers
Filing a lawsuit against Walmart and their insurance company will ultimately result in court-ordered mediation intended to end with settlement. We take these mediations very seriously. We approach them as if we will go to trial, because that strengthens our position and shows Walmart that we will fight for fair compensation till the end. We don't want to waste much of your time and emotions, so we will try to reach an agreement with them but will only recommend it only if it is a fair value for your case. If not, we will go to trial and possibly submit an appeal. No matter what - you are the client and you always make the final decision of whether to settle or to go to trial.
Fort Myers Walmart Accident Lawyers
Being injured in a Walmart accident in Fort Myers due to their negligence means that they may be liable to pay for your injury-related harms and losses but getting the compensation you deserve from them is not as easy as it sounds. Walmart is a big corporation with a large legal machinery behind them. They handle people like you every day. They know how to approach people and their goal is always to pay less compensation than an injury victim might deserve. That's why you need an experienced Fort Myers injury lawyer on your side.
Call our Fort Myers Walmart accident lawyers at the Wolfson Law Firm to fight for you against such an opponent. It is hard, but it is doable. No one is above the law. With the help of the right lawyer, you may get compensated by a liable company, no matter how large it is. You can call us right now at (239) 777-9954. Our consultations are free. We handle all our cases on a contingency basis, so you won't pay any fees unless we recover for you. There is no risk in calling us.
The Wolfson Law Firm is located at 3049 Cleveland Ave #140, Fort Myers, FL 33901. In addition to Fort Myers, we serve good folks in Walmart accidents throughout Southwest Florida. In Lee County we offer complete personal injury legal representation to the communities of Fort Myers, Cape Coral, Sanibel, Fort Myers Beach, Alva, San Carlos Park, Lehigh Acres, Bokeelia, Burnt Store Marina, Gateway, Cypress Lake, Fort Myers Shores, Harlem Heights, Captiva, Buckingham, Tanglewood, Charleston Park, Bonita Springs, Whiskey Creek, Iona, Estero, Lochmoor Waterway Estates, Matlacha, Suncoast Estates, Page Park, Matlacha Isles-Matlacha Shores, St. James City, Boca Grande, McGregor, North Fort Myers, Olga, Three Oaks, Tice, Palmona Park, Pine Island Center, Punta Rassa, Babcock Ranch, Pineland and Pine Manor.