Cruise Accidents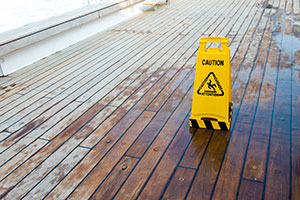 Throughout the world, cruises continue to be a popular way to see the world. In 2018, over 25 million people took a cruise globally. Whether you are leaving from Port Everglades to take a 4-day excursion to Mexico or from the Port of Miami for a two-week trip, cruises offer an "all-in-one" experience. They are great families, retirees, and people celebrating a milestone in their lives.
With everything on board that we need to have a great vacation, we don't consider the hidden dangers of a cruise. Injuries, violence, and crime occur more often than we expect. Cruise companies have a responsibility to passengers to ensure a safe environment. When they fail to do so, it can cause injury to those on board.
Common Accidents on Cruises
Passengers can be exposed to a wide variety of dangers when on a cruise.
Slip and fall accidents – Spilled liquid or water splashing up on the walkways can create slippery conditions, causing people to fall. Luggage or other items in hallways can cause tripping hazards.
Swimming pools – Swimming or laying out by the pool is a highlight for many on a cruise. Water that splashes out from the pool can cause passengers to slip and fall on the deck. Broken stairs or handrails may lead to falls. Drowning is also a concern, especially when younger children are in the pool.
Recreational fun – Cruises often feature recreational activities such as golf, rock-climbing walls, and water activities for passenger enjoyment. Activities that are not properly maintained or supervised can cause people to get hurt.
Food poisoning – Food that is not prepared properly, left out, or mishandled can cause people to get sick. Contaminated food can cause serious illness in some people and may require immediate medical treatment. In some cases, food poisoning may be the result of dangerous germs, such as E. coli or listeria, which can be life-threatening.
Escalator or elevators – Cruise ships often have elevators and escalators to help passengers get around easily. Broken steps or gaps can cause people to fall or get stuck in escalators. Elevators that don't line up properly to the floor when the doors open can result in falls.
While most of us feel relatively safe on a cruise ship, violence and physical assault is a real threat. Whether it is another passenger that had too much to drink or a crew member with a past criminal record, physical violence is an unfortunate reality when traveling on a cruise. If you were the victim of a violent act, be sure to report this to the appropriate authorities and seek medical attention as soon as possible.
For Myers Legal Help for a Cruise Ship Accident
If you live in Fort Myers and were injured in a cruise line accident, you should seek the help of a Fort Myers personal injury lawyer. These accidents pose unique challenges to those who have been hurt and, if you are unfamiliar with the laws that apply, you can find yourself in a position where you don't receive the settlement that you deserve.
A cruise company will often include a handful of clauses in their contracts to limit, or avoid, liability if a passenger gets hurt, even if it was the cruise company's fault. Without legal representation, the cruise company may use this to force you into thinking that you have no recourse if you've been hurt. But the Fort Myers cruise injury lawyers at Wolfson & Leon know better. Our attorneys are knowledgeable about laws that govern liability waivers and know how to defend your rights.
Another complication for an injured party arises if the ship is registered to a country outside of the US. With different laws in place, it may be hard for you to pursue a claim if you've been hurt.
Cruise accident victims should seek legal help if they've been injured through no fault of their own. A personal injury lawyer can navigate through the complicated laws to help you receive monetary damages you need to pay for medical treatment and lost wages while you recover from your injuries.
Fort Myers Cruise Accident Attorney
Whether you are taking the kids on a family cruise or a loved one to celebrate a milestone in your life, you have the right to enjoy your trip in a safe environment. When cruise lines are negligent or fail to keep their property safe, passengers can get hurt.
If you were injured in an accident involving a cruise ship, you have rights. Choose a Fort Myers cruise accident law firm that knows the law and can represent your interests. Whether they are negotiating a settlement or fighting for your rights in court, they will work tirelessly to help you get the monetary damages you need for your recovery.
Wolfson & Leon offers a free consultation where they can hear your story, answer questions, and let you know what legal options are available to you. For your free evaluation, call us today at (239) 777-9954.
FAQ
What Should I do if I was Seriously Hurt on a Cruise Ship?
You should consider filing a personal injury claim against the cruise line if you were severely hurt on one of their ships. Consulting a Fort Myers personal injury attorney may be critical to the outcome of as claims filed against cruise lines may be more complicated than you think. The ticket that you purchase to go on the cruise will outline where a personal injury claim should be filed. This is known as forum selection. The location could be the port that you departed from or the state that the cruise line is registered in. To best defend your rights, you should engage a Fort Myers cruise ship accident lawyer in the state where the lawsuit will be filed.
What are Common Accidents That Happen on a Cruise Ship?
Equipped with restaurants, accommodations, and recreational activities, people can get hurt while on a cruise. Wet or slick surfaces, luggage in hallways, and uneven walkways may cause people to slip or trip and fall. Swimming pools also pose a danger if walking surfaces are wet, handrails, or other equipment are broken. Drowning is an unfortunate accident that may happen if the pool is overcrowded or there is a lack of supervision by the cruise line. Many cruise ships offer recreational activities such as climbing walls or watersports that may lead to injury if the equipment is not maintained correctly. People may also get sick while eating onboard or may contract bacterial infections or viruses if proper cleaning and disinfecting do not happen.
How do I Find the Best Fort Myers Cruise Line Accident Lawyer?
Cruise line injuries pose some unique legal issues. It's helpful to find a personal injury lawyer that specializes in accidents such as yours. To find the best Fort Myers cruise line accident attorney, start with setting up a free case analysis with the firm. Use that time to ask questions about the attorney and how they plan to approach your case. Find out what the timeline might be, what your case may be worth, and how the process of filing a claim works. Knowing that you will be going up against a big company, be sure to choose an attorney that is comfortable with negotiating a settlement as well as defending your rights in court. If you are getting bills for expensive medical treatment, find out how you should pay for these. Taking the time to ask questions helps you understand how your relationship with the attorney will work.