Serious Injury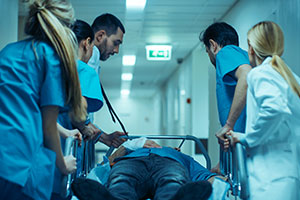 In the case you were injured from an accident due to the negligence of another person, company or corporation, you may be entitled to proper compensation by law. Being injured can bring much unneeded stress to your life, especially when the result of the accident was not any fault of your own. If an injury does occur, it is important to understand the cause of it and the rights that you have regarding who is responsible. The Fort Myers Serious Injury Attorneys at Wolfson & Leon have been assisting seriously injured victims for over 55 years.
Trauma Related Injury Attorneys in Fort Myers
It is not always easy to diagnose the severity of an injury after it has occurred. Many people are in shock after an accident and cannot fully comprehend the extent of their injuries. This especially pertains to injuries that are not visible on the surface. Traumatic Brain Injury (TBI) is one of the most serious injuries a person could sustain. This type of injury could be caused by an automobile or motorcycle accident. TBI could also be sustained from a simple slip and fall or even worse, an intentional act of violence such as assault and battery.
When a brain injury occurs, there may be obvious signs at first such as affected Speech and Cognitive abilities. Although in some cases, there may not be apparent signs immediately of the brain injury that was sustained. That is why our Fort Myers Serious Injury Lawyers team up with experts to show precisely how our clients are affected by brain injuries. Experts help to explain how a brain injured person may appear to live a normal life but would not be able to respond during an emergency or a situation where circumstances can quickly change. They would not be able to respond appropriately because of their diminished cognitive abilities that would be needed to react in that moment. This would need to be represented appropriately for the seriously injured person to receive the proper compensation.
By utilizing experts, they help to portray our client's story. Certain experts such as forensic economists, can further depict the financial burden a serious injury will have now and in the future for a client. Life care plans can be presented by vocational rehabilitation specialists, where they can show how the client can live a full life within their limitations, as well as the cost of the plan. When using a "day in the life" video, it helps a jury better understand the effects of TBI and other serious injuries on a person's life. The personal injury team at our firm works with the needed experts regularly to prove our client's case to a jury or insurance company.
The impact that a serious injury can have on your life will affect you physically, emotionally and financially. It could affect your job and your ability to earn wages or accel in your career. The worst being the complete inability to work at all. This type of injury could not only alter your life, but also your personal relationships. The effects this could have on a spouse and kids that rely on you and would not only have to care for you, but also themselves now too. That is why our Fort Myers Serious Injury Attorneys are ready to represent accident and injury victims in all forms of personal injury such as:
Automobile and Motorcycle Accidents
Accidents Involving Drunk Driving
Accidents Involving Rollovers
Head-on Collision Accidents
Bicycle Accidents
Accidents Involving Trucks
Uninsured / Underinsured Motorist Accidents
Pedestrian Accidents
Premises Liability Injuries
Wrongful Death Cases
Medical Malpractice Cases
Slip and Fall on Public or Private Property
All Other Types of Slip and Falls
Cruise Ship Accidents
Accidents Involving Boats
Personal Injury Lawyers Serving Fort Myers and Southwest Florida
The Fort Myers Serious Injury Attorneys at Wolfson & Leon represent people that were injured due to the malicious acts of another individual such as sexual abuse, fraud or assault and battery. We understand how traumatizing events such as these can be and the many ways that it can affect your daily life. When it comes to our client's injuries, we work aggressively to ensure that you are represented appropriately. Our lawyers are standing ready to fight for you in court and even trial.
If you or a loved one was seriously injured in the Fort Myers area, it is important to know your available options. The proper investigation and handling of your case can help to mitigate the already endured stresses from the injury sustained. That is why you should call the personal injury attorneys at Wolfson & Leon today at (239) 777-9954 for your free consult.
FAQ
What damages can I recover if I was seriously injured in an accident?
If you have serious injuries caused by someone else's negligence, there is a wide variety of compensatory awards that you may be entitled to, depending on your situation. You may be able to receive compensation to pay for your medical bills and future care that your injuries may require. If injuries prevent you from working while you recover, you may be awarded an amount to replace your lost wages. You may also recover damages for future income that you may suffer if your injuries result in a permanent disability. Compensation may be available for any pain and suffering encountered as a result of the accident. Consult with the best Fort Myers personal injury lawyer you find to get the answers to your questions based on your specific case.
My spouse was seriously hurt in an accident where they were not at fault. Is my family entitled to recover damages?
In addition to amounts that your spouse may recover to pay for their medical expenses and lost income, you may be able entitled to receive compensation for damages resulting from your spouse's inability to provide support and service to the household. For example, if you must hire a lawn service to mow the grass because your spouse is not able to perform the service due to their injuries, you may be able to recover damages to pay for this. You may also be entitled to monetary compensation due to the loss of consortium. This refers to the impact that the accident has on the relationship between a married couple.
What is the statute of limitations for filing a personal injury lawsuit when I've been seriously hurt in an accident?
If you were seriously hurt as a result of someone else's negligence, you have up to four years to file a personal injury lawsuit in the State of Florida. While that may seem like a long time, waiting to take legal action may impact the success of your claim, as well as the amount of compensation that you can recover. When you consult a Fort Myers personal injury attorney soon after you've been injured, they can help build your case. A personal injury law firm in Fort Myers can advise you of the appropriate actions to take. If you wait to seek legal assistance, you may unknowingly hurt your chances for financial recovery.
How do I find the best serious injury lawyer in Fort Myers?
When you have been seriously injured in an accident, you should take immediate steps to find the best personal injury lawyer in Fort Myers to defend your interests. A skilled personal injury lawyer can advise you of your rights, build your case, and represent your interests against the insurance company or in court. To find the best serious injury lawyer for your case, schedule time to discuss the specifics of your accident. Ask the attorney about their qualifications and experience with matters such as yours. Find out what you can expect during the legal process. How often will the firm communicate with you, and will you work directly with the attorney or their assistant? How long will your case take, and what kind of compensation can you expect to receive? Finally, ask about their fee structure and what they charge. Choosing the best car accident lawyer or best slip and fall lawyer in Fort Myers is a serious decision - take your time, do your homework and trust your gut instinct. Have confidence in your decision - you and your family will likely depend on it.