Pedestrian Accidents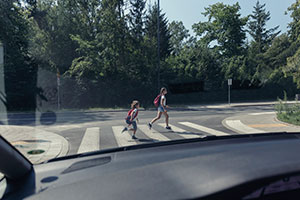 Millions of tourists' flock to Florida every year to enjoy the state's sunny skies and endless beaches. With year-round warm weather, people can enjoy walking, biking, and exercising in the sun. Many Florida cities are built to enjoy the outdoors. Fort Myers features the Gulf Coast Town Center and the Bell Tower Shops, which offer premier outdoor shopping and dining. Pedestrians may choose to take a stroll past the many outdoor restaurants and shops that line the roads leading to the beach. Fort Myers has large sidewalks, bicycle lanes, and crosswalks, which are intended to give pedestrians plenty of room and safety around traffic.
Even with these extra measures, pedestrians can still be put in harm's way when they share the road with cars. Poor weather, bad traffic, and bad driving habits can lead to a pedestrian being hit by a car. If you or someone in your family was hit as a pedestrian by a vehicle, you should seek legal help from a Fort Myers pedestrian accident lawyer. Accident victims have rights and the personal injury attorneys at Wolfson & Leon are dedicated to helping you receive monetary damages to help you recover from your injuries. To find out what legal options are available to you, contact us today for a free, no- obligation review of your case. We are available to answer your questions and listen to your side. Call (239) 777-9954 today.
Common Causes for Pedestrian Accidents in Fort Myers
Even when pedestrians are walking on the sidewalk and following the rules of the road, they can still be hit by a car for a variety of reasons including;
Distracted driving – Drivers who aren't paying attention may hit pedestrians who are trying to cross the street, waiting at intersections, or walking down the sidewalks.
Failing to obey the rules of the road – Cars that fail to stop at lights or signs, don't yield to pedestrians in crosswalks, change lanes erratically, or drive at unsafe speeds pose dangers to pedestrians.
Impaired drivers – A driver who is under the influence while operating their car poses a danger to pedestrians around them. With impaired eyesight and reflexes, they may be unable to stop is a pedestrian crosses their path, run red lights, or drive onto sidewalks.
Poor weather conditions – When the weather is bad, low visibility can prevent drivers from seeing pedestrians on the sidewalks or crossing the street. Rainy weather can cause roads to become slippery, causing drivers to lose control and potentially hitting cars or people around them.
Fort Myers Pedestrian Accident Injury
When pedestrians are hit by cars, statistically there is a high chance of injury or fatality. Lee County reported 267 pedestrian accidents, resulting in 229 injuries and 23 fatalities in 2018. Based on these numbers, almost 95% of pedestrian accidents resulted in injury or death.
Without the protective shield of a car, pedestrians who are hit or run over can be badly injured. If they are lucky, they will walk away with cuts, bruises, sprains. But in many cases, a pedestrian may suffer from broken bones, neck and back injuries, and damage to their spinal cord. The blow of being hit can cause extensive internal organ damage and traumatic injuries to the brain.
Pedestrians that are hit by cars may suffer from such extensive injuries that their lives are forever changed. They may lose limbs, suffer from permanent disfigurement, or endure such extreme damage to their brain that they are no longer able to care for themselves.
Surgeries, costly medical procedures, and an extended hospital stay may be necessary to recover from injuries in a pedestrian accident. Medical bills will quickly add up and can create additional financial stress on the victim and the family that cares for them. A pedestrian accident attorney in Fort Myers can determine if you have a claim and can help you to build a case to recover the damages you need to pay for these expensive medical bills.
Why Call a Fort Myers Pedestrian Accident Law Firm?
Victims and their families should not have the stress of worrying about how they are going to pay for expensive medical treatment or recover lost wages. A Fort Myers pedestrian accident attorney works tirelessly to represent your interests as they guide you through the process. They work directly with the insurance company to settle your claim so that you don't have to. If your case requires litigation, a Fort Myers personal injury lawyer will defend your rights in court. A Fort Myers accident attorney works on your behalf – you stay in control throughout the entire process.
Wolfson & Leon in Fort Myers has helped personal injury victims and their families since 1963. You never pay a fee unless we are successful in settling your claim. For your free case evaluation, call us at (239) 777-9954.
FAQ
What Damages can I Recover if I Involved in a Pedestrian-Car Crash?
A pedestrian may be entitled to receive money to pay for their medical bills, lost income during their recovery, and pain and suffering if they were severely injured when hit by a car. In some cases, they may receive compensation for continuing or at-home care and future lost wages if their injuries are considered permanent. Typically, a pedestrian would pursue damages from their personal automobile insurance policy if they carry applicable coverage. If the victim does not have their car insurance or the injuries are extensive or life-altering injuries may far exceed that threshold, you should reach out to a personal injury attorney to discuss legal options available to you.
What if I'm Partially At-Fault When I was hit by a Car. Can I Recover any Damages to pay for my Injuries?
Even if a pedestrian shares partial blame for a car accident, they may still be entitled to money for medical treatment and lost wages. Pedestrians share roadways with vehicles.
As such, pedestrians must also adhere to the rules of the road. This means that pedestrians must obey traffic signs, cross the street in designated crosswalks, and use sidewalks. When they fail to do so, and a car accident happens, a pedestrian can be found partially at fault. Under Florida law, any damages recovered by the pedestrian would be reduced by the percentage of blame that they shared.
How do I Find the Best Fort Myers Pedestrian Accident Lawyer?
Finding the best Fort Myers pedestrian accident attorney requires an investment of your time, but it will be well worth it. Pedestrians often have severe, even permanent injuries. These can have a lifelong impact on your family's finances, especially if your medical costs are high, your earning potential has been compromised, or if you need continuing care. Choosing the right attorney to defend your case means asking questions about their qualifications, experience, and background. You should seek at the attorney that is knowledgeable about personal injury law and regularly practices it. Besides, the best attorney to defend your rights should be one that you are comfortable with and trust. Ask the lawyer about what your legal options are and how the process will work. If you want to work directly with the lawyer and not their staff, be sure to inquire about this. The best Fort Myers pedestrian accident lawyer should be one that you feel confident will represent your rights.