Boating Accidents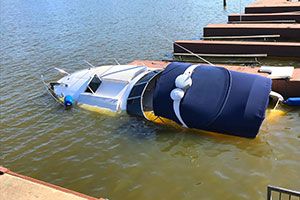 Florida's warm, sunny weather draws thousands of boaters to its waters every year. Boaters who enjoy great fishing, fun activities, or relaxing on the soothing waves find the oceans and bays around Florida prime locations to spend a weekend.
While spending the day on the water sounds like a great way to pass the time, there are inherent dangers to boating. A driver's negligence or inexperience can lead to catastrophic boat accidents. People involved in boating accidents can be left with severe and debilitating injuries that can impact the quality of their life. If you or a loved one was injured in a boat accident, call the Fort Myers boating accident attorneys at Wolfson & Leon at (239) 777-9954.
Fort Myers Boat Accident Causes
Safety is often on the forefront of our minds when we drive a car. On a boat, however, the extent of our safety precautions may be wearing a life jacket. There are many hazards associated with operating a boat that most of us don't consider when we board the craft.
Reckless driving is a common factor in a boating accident. A driver can lose control if they are speeding or driving erratically, potentially crashing into another boat, pier, or bridge.
Accidents may often be caused by the boat driver's lack of experience. Boats are large crafts that can travel at high speeds and experience poor conditions, such as high winds and choppy waters. An inexperienced boat driver that can't properly control their craft can pose serious safety hazards to their passengers, other boats traveling on the water, or people standing on piers or bridges.
A driver that is under the influence of alcohol or drugs can cause a serious accident. A driver who is impaired may have slower reflexes, not see clearly, and exercise poor judgment – all of which can lead to a serious accident.
Poor weather conditions can also contribute to an accident. Rough waters and torrential rain can limit a driver's ability to see and control the craft. They may crash into a pier or another boat as they try to dock.
A boat that has not been properly maintained may experience equipment failure. Fires, flooding, or even sinking may result if equipment malfunctions. Not only are passengers exposed to these elements, the need to abandon the boat puts them at risk if they can't swim or don't have a lifejacket.
The above conditions can result in such boating accidents as;
Collision with a non-moving object such as a pier or bridge
Collision with another boat
Flooding or sinking
Recreational activity accidents
Grounding
Florida Boating Laws
Boating accidents can cause serious injuries to those involved. They can be fatal. When a boat hits another object at a high speed, passengers can be seriously injured if they are violently thrown about the boat. Broken bones, lacerations, head trauma, or internal organ damage may result if passengers hit a hard surface or sharp object at a very high speed. Passengers who are thrown overboard may drown if they aren't wearing lifejackets or are unconscious. They are also at risk of injury from the sharp propellers, which can cause deep cuts and limb loss. Passengers thrown overboard can be run over or hit by the boat, causing serious, even fatal injuries.
Fort Myers Boat Injury Law Firms
Boat drivers have a responsibility to follow the laws that govern operating their craft.
These rules require;
A boat driver to take a safety education course if they are under 21 years old or are operating a boat with 10 horsepower or more.
Every vessel is required to have an approved personal flotation device (PFD) for every person on board
Children who are six years old or younger are required to wear an approved PFD at all times on boats that are less than 26 feet in length
Anyone on a personal water craft, such as a jet ski, is required to wear an approved PFD, regardless of their age.
Boat drivers are also expected to follow speed limit and other applicable maritime rules. Driver who violate these rules can be cited and found negligent.
Fort Myers Boat Accident Law Firm
If you were injured in a boating accident, our Fort Myers boat accident lawyer will review the circumstances of your case to determine if the driver violated any laws or rules. They may call in an expert to evaluate your accident. If a driver is found negligent and you were injured as a result, you may be entitled to recover monetary damages to pay for medical treatment, future care, and lost income.
To find out what your legal options are, contact Wolfson & Leon. We can evaluate your case, answer your questions, and explain what courses of action may be available to you. It costs you nothing to find out what your rights are – call us today at (239) 777-9954.
FAQ
What is the Deadline for Filing a Boating Accident Lawsuit?
Where the boating accident occurred, and the extent of the damage determines how much time you have to file a lawsuit. The accident victim typically has up to four years to file a lawsuit when they've been injured on a boat. However, there may be exceptions to this. When the crash occurred on open waters, you may have up to three years to file a claim under maritime law. However, if the accident resulted in death, the victim's family has up to two years to file a lawsuit.
The laws that govern boating accidents can be confusing and complicated. You must contact a Fort Myers personal injury lawyer that specializes in the laws that govern boating accidents. Filing your case in the wrong court or under the wrong guidance can severely delay your suit and could be potential impact settlement.
What are the Common Injuries Caused by Boating Accidents?
Boating accidents can result in serious, even fatal, injuries to drivers and passengers. When a boat moving at a high-speed hit another boat, watercraft, or pier on the water, passengers can be thrown violently around the craft. The impact can result in severe injuries such as traumatic brain injuries and severe organ damage. If thrown from the boat, a passenger could be run over or hit by the boat. Overthrown passengers could also experience severe cuts and lacerations, even the loss of limbs, from the boat's propeller. If the overthrown passenger is knocked unconscious, they could drown. An intoxicated boat driver can cause severe injuries to passengers if they lose control or hit another object.
How do I Find the Best Fort Myers Boating Accident Injury Lawyer?
If you were severely injured in a boating accident, or have a family member who lost their life, you must find the best Fort Myers boating accident injury attorney to defend your rights. Boating accidents have many complexities and may result in costly, even life-altering injuries. You need a Fort Myers boating personal injury accident lawyer that is well-versed in the laws that govern boating accidents. It is helpful to research the law firm on the internet to learn about their experience in this area. Call to set up a no-obligation, free case consultation with the attorney, and ask about their experience and knowledge of boating accidents. Ask questions about who you will work with at the law firm, what you should expect when filing a claim for a boating accident, and what kind of settlement may be possible. When you select the best Fort Myers boating accident attorney to represent your rights, be sure that you are confident and comfortable in their ability to defend your rights.