Gas Station Accidents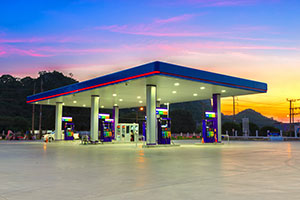 When you've been injured at a gas station in Fort Myers, through no fault of your own, you must investigate to know who was responsible for the accident and for the injuries you have sustained. You need to figure out the at-fault party and determine whether you are entitled to compensation from them. It is possible to be compensated for your Fort Myers gas station accident and injuries, but it not likely to be an easy road.
Our Fort Myers gas station accident attorneys at Wolfson & Leon can help. We will investigate all the circumstances of your case, will figure out who was liable and the best way to obtain fair compensation for your damages, harms and losses. Call us at (239) 777-9954 and let us get to work for you. Our consultations are free and confidential.
Fort Myers Gas Stations
According to the data from the US Census Bureau, there are more than 160,000 gas stations all around the United States. The more popular gas stations in Fort Myers and Lee County include:
Shell
Sunoco
Marathon
Chevron
Wawa
Circle K
Gas N Snack
Mobil
RaceTrac
Valero
Citgo
With so many cars and gas stations in Fort Myers, it is no surprise that gas station accidents happen. The fierce competition in the gas station market makes them try hard to gain the trust of their customers. They take good care of their visitors, but mistakes happen, and unfortunately good folks get injured. If you or your loved ones have been unfortunate to suffer in such an accident, call us and let us help you.
Fort Myers Gas Station Accidents
Our Fort Myers gas station accidents attorneys state that the most common causes of injuries occurring at gas stations are:
Negligent security at gas station in Fort Myers. This puts customers at risk of foreseeable criminal actions.
Slip and fall accidents at gas station accidents in Fort Myers. There is no place for liquids, garbage, oil or gasoline on the floors.
Trip and fall accidents at Fort Myers gas stations
Gas burns accidents at Fort Myers gas stations.
Defective gas pump nozzles gas station accidents in Fort Myers. It's gas station duty to protect visitors from improperly maintained gas pump nozzles.
Fort Myers Gas station car crashes
Gas station truck crashes in Fort Myers
Fort Myers gas station motorcycle crashes
Gas station bicycle crashes in Fort Myers
Gas station employees causing accidents in Fort Myers. Sometimes, they cause injuries to visitors and customers.
Explosions and fires at Fort Myers gas stations. This is a worst-case scenario that almost always leads to losses of lives.
Fort Myers Gas Station Accident Lawyers
When it comes to personal injuries sustained at gas stations, you should know that gas stations owe their customers a duty of reasonable care, which means that they have to take all the necessary measures to provide them with a safe environment for filling the gas tank, shopping, having a rest, or any other activity you can do there. When they breach this duty due to negligence then they can be held accountable for the damages and injuries caused by that negligence. In that case, you can claim financial recovery for the damages you've suffered due to the Fort Myers gas station management negligence.
Gas stations are hesitant to pay for damages to anyone, even when they are obviously at fault. That's why you need the best Fort Myers gas station accident attorney you can call to fight aggressively for your right to fair compensation for your harms and losses. Nothing is gained by being and remaining a silent victim.
We invite you to call our Fort Myers gas station accident attorneys of Wolfson & Leon at (239) 777-9954. Our consultations are free and, since we handle cases on a contingency basis, you won't pay us anything until we recover for you.
The Wolfson & Leon is at 3049 Cleveland Ave #140, Fort Myers, FL 33901. In Lee County we serve the communities of Fort Myers, Alva, Saint James City, Boca Grande, Lehigh Acres, Bokeelia, Sanibel, Cape Coral, Bonita Springs, Captiva, Estero, Fort Myers Beach, Pineland and North Fort Myers.
FAQ
What Should I do if I was Hurt at a Gas Station?
If you get hurt in slip or trip and fall at a gas station, be sure to report this immediately to the manager. It is best to do this while you are there and be sure to request copies of any accident reports that the manager fills out. If there were any witnesses to your accident, get their contact information. Seek medical attention immediately, even if your injuries don't seem that severe. If you injured your head, neck, or back, you might not realize it until later. If you wait to seek medical help, untreated injuries may become worse. Waiting to see a doctor may also work against you as an insurance company may perceive your injury as not being severe enough. To help ensure that your rights are protected, seek the help of a personal injury attorney.
If I Get Hurt at a Gas Station, Can I Recover Damages?
If you were hurt at a gas station as a result of the owner or operator's negligence, you might be able to recover damages for your injuries. The owner or operator of a gas station must take reasonable steps to ensure the safety of people visiting their property. If they become aware of a dangerous condition that could cause an injury, they should take steps in a reasonable timeframe to fix this or notify visitors of the danger. For example, if an employee mops a floor to clean up a spill but doesn't put signs up to indicate that the floor is wet, the owner or operator may be negligent if a customer slips and hits their head. If an injured victim can prove that they were hurt as the result of negligence, they are entitled to compensation to pay for your medical bills and lost wages.
How do I Find The Best Fort Myers gas Station Accident Attorney?
If you were injured in a gas station accident, you need the best Fort Myers lawyer to represent your rights. Choose a lawyer that you are comfortable working with. You need more than just an attorney that is familiar with personal injury law – you need one that specializes in it. Schedule a free consultation with firms that represent personal injury victims. Use that time to find out if you have a claim and what is involved with a lawsuit. Ask questions about the personal injury lawyer's expertise and background. Who will you work with at the firm? Are they comfortable negotiating a settlement with an insurance company? Can they defend your rights in court? Take the time to understand the process and find out how the firm will handle your case. This will help you choose the best Fort Myers gas station accident lawyer for you.