Supermarkets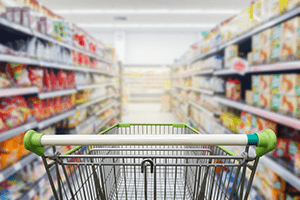 The usual shopping experience in a supermarket doesn't involve getting seriously injured, but it happens to a surprising number of people including your friends, family and neighbors. It can be embarrassing and at times, painful. Most of us are quick to assume it was our fault - but that is not always true. Often we discover, upon closer inspection, that the supermarket and grocery store owners could have prevented the harm that led to your injuries.
If you or your loved ones happen to be among the unfortunate good folks who have sustained injuries at Fort Myers supermarkets, call our Fort Myers supermarket lawyers at the Wolfson Law Firm for assistance to determine if you are entitled to financial compensation for your injuries. Call us at (239) 777-9954. Our consultations are free of charge. You won't pay a fee unless we recover for you and you'll learn what your options are. Better to understand and make an informed decision than to go forward with doubts and questions.
Fort Myers Supermarkets
United States abound with supermarkets of all types and all sizes. Several supermarket chains dominate the market and appear more often than others. The most popular in Fort Myers include:
Publix
Bravo
Maxx Foods
The Fresh Market
Save-A-Lot
Walmart
Costco
Trader Joe
Whole Foods
Winn-Dixie
Supermarkets may be responsible for injuries sustained at their premises. Under the Florida premises liability laws, supermarkets owe visitors a duty of reasonable care, which means that they have to undertake all the necessary and reasonable measures to provide safe environment for visitors, guests and customers. When they fail in doing so due to negligence, accident and injuries can happen and supermarkets may be held accountable to pay for those damages.
That is why insurance companies have precautions before insuring a supermarket. They evaluate thoroughly the supermarket's safety procedures and policies in place to enhance their chances of defending the supermarket against claims and to make sure that the supermarket management do their best to protect customers from injuries.
Surveillance cameras are not there just to deter shoplifters, but to protect supermarkets from claims for personal injuries arising out of slip and fall accidents and trip and fall accidents. If the supermarket believes that the video exonerates them then they will show it repeatedly to deter the pursuit of claims. However, if the stores surveillance tapes demonstrate partial of complete fault on the part of the store, then you can expect that they will resist all attempts to get a copy of that tape. Our Fort Myers supermarket accident lawyers routinely have to go to court to ask a judge to issue an order compelling the store to release the entire video tape.
Fort Myers Supermarket Accidents
The most common supermarket accidents in Fort Myers are:
Slip and fall accident in Fort Myers supermarket
Wrongly placed or missing floor mats at Fort Myers supermarket
Fort Myers trip and fall supermarket accidents
Fort Myers bicycle accidents in supermarket parking lots
Pedestrian accidents in supermarket parking lots in Fort Myers
Car accidents in supermarket parking lots in Fort Myers
Motorcycle accidents in supermarket parking lots in Fort Myers
Unsecured merchandise accidents in supermarket in Fort Myers
Food poisoning from improperly preserved food in Fort Myers supermarket
Cuts, bruises and lacerations from improperly maintained shopping carts in supermarket in Fort Myers
Falling merchandise accidents in Fort Myers supermarket
Improperly maintained exit and entrance doors at supermarket in Fort Myers
If you or your loved ones have suffered injuries in one of these accidents or any other type of accident, you should call the best Fort Myers personal injury lawyer you can locate as soon as possible. The supermarket and their insurance company may try to tempt you to settle for a quick but low form of compensation, but it is likely to be far less that you deserve. Do not accept any offer made by them before consulting a lawyer, because it may not be enough to cover for all your injury-related harms and losses. With our free consultations, you can find out if the offer is fair with no cost to you.
Depending on the circumstances of your case and the injuries you have sustained, you may be entitled to financial recovery of the following damages:
Medical bills, such as visits to hospital, time spent in hospital, cost of surgery, and others
Cost of medications
Compensation for scarring and disfigurement
Compensation for stress and emotional pain
Funeral costs in case of wrongful death
Lost earnings
Loss of financial support for members of the family
Fort Myers Supermarket Accident Lawyers
In case of injury in a Fort Myers supermarket, you should contact the Fort Myers supermarket accident lawyers at the Wolfson Law Firm. Call (239) 777-9954 for free consultations with our bilingual lawyers and begin your journey to getting the compensation that you deserve. We handle cases on a contingency basis, so you are not paying any fees unless we recover for you.
The Wolfson Law Firm can be found at 3049 Cleveland Ave #140, Fort Myers, FL 33901. In Lee County we are available to provide personal injury legal representation to the communities of Cape Coral, Fort Myers, Page Park, Buckingham, Sanibel, San Carlos Park, Bonita Springs, Lehigh Acres, Estero, Tice, Burnt Store Marina, Fort Myers Beach, McGregor, Gateway, Three Oaks, Olga, Fort Myers Shores, Lochmoor Waterway Estates, Captiva, Charleston Park, Pine Manor, Palmona Park, Babcock Ranch, Cypress Lake, Alva, North Fort Myers, Harlem Heights, Pine Island Center, Iona, St. James City, Tanglewood, Punta Rassa, Boca Grande, Matlacha, Suncoast Estates, Matlacha Isles-Matlacha Shores, Bokeelia, Pineland and Whiskey Creek.
FAQ
I Hit My Head When I Slipped on a Wet Floor in a Fort Myers Grocery Store. Am I Entitled to Compensation for my Injuries?
Every slip and fall case is different. Whether or not you are entitled to recover damages depends on the circumstances around your accident. If you can prove that the grocery store was negligent in their response to the danger, you may be compensated for your injuries. For example, if the store is notified of spilled liquid but doesn't clean it up timely or warn customers of the danger, you may be able to recover compensation if you slip and fall. Or, if a store employee did mop up the spill but failed to warn customers of the danger, damages may be awarded if you were injured as a result.
What are Common Injuries in a Grocery Store Slip and Fall Accident?
Head, back, and neck injuries are typical injuries experienced in a slip and fall accident at a grocery store. If a person slips on a wet surface and falls, they may hit their head on the hard floor, a shelf, or a display. Hitting your head can cause a traumatic brain injury ranging from a minor concussion to a more severe injury such as a contusion or torn tissues. A serious fall can result in damage to the spinal cord, causing extreme pain and potentially impacting your ability to move your limbs. Broken bones, ligament damage, muscle strains, and bruising are common injuries in slip and fall accidents.
How do I Find The Best Grocery Store Slip and Fall, Accident Lawyer?
Finding the best Fort Myers grocery store slip and fall accident lawyer takes an investment of your time. Personal injury law is highly specialized, and you need to find a law firm that is dedicated to handling these types of cases. A lawyer that takes on cases like these now and then may not be adequately equipped to defend your rights. A personal injury attorney that offers a free consultation can evaluate your situation and advise you of your rights. This is also your chance to ask questions about their background and experience. Find out what steps that might take in representing your rights and what you can expect throughout the process. It's worth your time to ask questions and learn about the process. This will help you to choose the best grocery store slip and fall, accident lawyer.