Slip and Fall Accidents in Parking Lots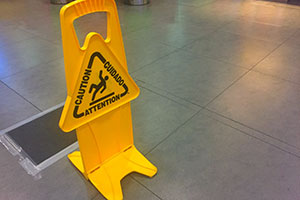 If you were injured in a slip and fall accident in a Fort Myers' parking lot, then you will likely want to call the best slip and fall attorney in Fort Myers that you can find. That is completely reasonable. No one expects to slip and fall – but it happens. That is why you are well advised to call the Fort Myers slip and fall lawyers of Wolfson & Leon at (239) 777-9954 for your free consultation.
Fort Myers Slip and Falls in Parking Lots: Here is What You Need to Know
There are tens of millions of parking lots in this country. Combine that fact with the statistic that with the number of times people walk across them, and the chance of a slip and fall accident is enormous. If you have been injured in a slip and fall accident in Florida, there are several things you need to know in order to get your full, fair and complete compensation.
The term 'slip and fall' is a broad term that incorporates different types of accidents. You can slip on something or on an object and fall. You can trip or fall over an object in your path. Or, you can step in a depression/low spot or hole and fall.
Unfortunately, parking lots can be dangerous areas if they are not maintained well. In Florida, the owner of the parking lot has a high duty of care to make sure that the parking lot is reasonably safe.
The first thing you need to know is that you may need to file your personal injury claim with the property owner, instead of the business owner. This generally happens when a business leases the space they use, instead of outright owning the property. In these types of instances, it is the person or organization that owns the parking lot or that is responsible for its maintenance.
You can generally tell by the way the parking lot is set up. If you have a slip and fall in an airport or mall parking lot, then the organization that manages the airport or mall is usually responsible for the maintenance of the parking lots. If you slip and fall in a major store's parking lot, and it is a stand-alone parking lot, then chances are that a major store owns the whole property. For example, if you slip and fall in a Publix or Winn Dixie parking lot, and the parking lot is sectioned off from other parking lots, Publix or Winn Dixie most likely owns that lot.
If, however, the major store shares a parking lot with other stores, then there is most likely an organization that is responsible for the parking lot's maintenance. For example, if you slip and fall on your way to Home Depot, but that Home Depot is in a strip mall with other stores like Walmart and Best Buy, then an owner or cleaning organization is likely responsible for the upkeep of the parking lots.
As stated above, in Florida a business owner has the duty of reasonably maintaining the property. While most business owners want to provide a safe environment for their customers, some choose to focus on the bottom-line and not the safety and well-being of their customers.
Fortunately, by law all retailers have a high level of duty to keep the premises reasonably safe. This level of duty is called premises liability theory, and every state has a similar concept. Essentially the theory states that business owners have a duty of reasonable care to the public or their business invitees (customers). This kind of liability mandates that every business owner has a duty to ensure that the premises or store grounds are kept in a reasonably safe condition. Their customers cannot be unreasonably exposed to dangerous or hazardous conditions. This liability applies to all employees at the store.
Business owners must inspect their premises regularly and ensure that any dangerous condition is quickly fixed in a reasonable manner. An owner can also mark off or cordon an area with a sign if they need time to fix it. But the important thing is that they must frequently check the premises. Owners and employees can even be responsible for dangers that they should have known about in many circumstances.
If an owner does discover a previously unknown danger, the owner must take the steps necessary to fix it. For example, if a Publix employee finds a dangerous pothole in the parking lot, then they can rope off the area until it is fixed.
Unfortunately, if a business owner is particularly negligent, then a parking lot can be incredibly dangerous. Here are a few examples of some of the most common dangers that can be found in parking lots that can lead to serious slip and fall injuries in Fort Myers:
Damaged or inappropriately placed wheel stops can be incredibly dangerous. Wheel or tire stops are the long, rectangular concrete barriers placed at the end of a parking space. The wheel stops must be easy for customers to see, otherwise customers can easily trip and fall over it. The stops also need to be the right height. They should not be too high, or people could easily trip over it. Aside from being easily seen, the wheel stops need to be properly aligned at the head of the parking space. They cannot be crooked or cracked. If a car or truck manages to move or crack one of these, then it is incumbent upon the store to highlight it and eventually fix it.
Along with wheel stops, the parking spaces themselves need to be properly spaced. They cannot be spaced too close together. There is no law in Florida that mandates the spacing, but the American Institute of Architects recommends parking spaces be 18 feet deep and 9 feet wide. The organization also recommends 24 feet between the rows of parked cars.
Handicap ramps can also be extremely dangerous if not properly maintained. If a handicap ramp is poorly maintained, then it can lead those already handicapped slipping and falling. There should also be adequate signs and painted areas that let the public know about the handicap zone.
If a parking lot has speed bumps, those must also be maintained. Otherwise those could present a serious hazard. The speed bumps must be properly painted. The public must be able to clearly see them and navigate them. If they are not properly painted or the paint has washed away, people can easily trip on them or slip on something.
Florida also requires that parking lots are well-defined and easily seen in day and night. This means that there needs to be adequate lighting. If a parking lot is dark, then the chance of slip and fall injuries greatly increase.
Lastly, the overall condition of the parking lot must be properly maintained. Remember, not all parking lots are asphalt. Some are grass or dirt. All parking lots, no matter what they are made of must be well-kept.
The lot owners must routinely inspect the parking lot and if they find anything dangerous, they must warn the public of the danger and ultimately fix it. The public includes both customers and, in some situations, those walking across the parking lot.
If you or a loved one has been involved in a slip and fall in a parking lot, you should seek immediate medical care. In addition, make a report to the store owner or security guards. Take photos and video of the scene. Get the contact information of any witnesses. Then contact the best Fort Myers personal injury lawyer you can find to help you to understand your rights.
Fort Myers Parking Lot Slip and Fall Injury Lawyers
At Wolfson & Leon, their Fort Myers personal injury attorneys have defended the rights of injury victims in Florida since 1963. They are standing by to help you too. They serve the greater Fort Myers area including North Fort Myers, Fort Myers Beach, Cape Coral, Lehigh Acres, Estero, Bonita Springs, Naples and Sanibel Captiva. Just call for your free consultation at (239) 777-9954 and get the answers you need so you can get the compensation that you deserve.
FAQ
What Common Slip and Fall Injuries That Happen in Parking Lots?
Parking lots pose a variety of dangers when they aren't properly maintained. People can trip and fall over the cracked pavement, broken car stops, and potholes. Trip or slip and fall accidents may also happen if the lighting is broken or inadequate at night, as people may not be able to see hazards as they are walking.
Falling in a parking lot can result in broken bones, muscle sprains and strains, and bruises. If you fall and hit your head on the hard pavement or the corner of a parking stop or curb, it can cause a traumatic injury to your brain. Skull fractures, concussions, or torn tissues may result in serious, even life-altering injuries.
Can I Sue if I Slip and Fall in a Parking Lot?
If you were injured in a slip and fall accident in a parking lot, you might be able to sue for damages if you can prove that the owner was negligent. Under premise liability, property owners have a responsibility to maintain a safe premise for visitors. If the owner was aware of dangerous conditions that could cause injuries, such as holes in the pavement or broken curbs, but took no steps to fix these, they may be deemed negligent. In other cases, an owner may be found negligent if they should have anticipated a hazard but failed to do so. In a parking lot where criminal activity frequently occurs, the owner could be found negligent if they didn't take steps to fix broken lights.
How do I Find The Best Parking Lot Slip and Fall Accident Lawyer in Fort Myers?
If you were hurt in a parking lot fall, you need to find a knowledgeable and experienced attorney that you are comfortable working with. To find the best lawyer for your parking lot injury, look for an attorney that is well-versed in personal injury law. Schedule a free consultation with the firm to find out if they think you have a case and how they would go about defending your rights. Ask questions about their background, experience, and what you can expect if they were to take on your case. Find out who you will work with and how often they communicate with you. Finding the best Fort Myers parking lot attorney to represent you will come down to how comfortable you are working with them.