Edison Mall Accidents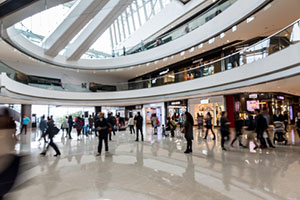 If you have sustained personal injuries at Edison Mall in Fort Myers, you should know that you are not alone. Accidents occur there every now and then. Maybe before now you have been focused on shopping and entertainment. You were unaware of people who were injured in Edison Mall, but now that you or a loved one are injured, you understand.
Our Edison Mall accident lawyers at the Wolfson Law Firm in Fort Myers help good folks injured at Edison Mall determine whether they are entitled to compensation due to their injuries and, if they are, how to proceed. You'll likely have numerous expenses related to the injuries and you don't have time to waste. Call us now at (239) 777-9954 for your free consultation. You don't pay until we recover compensation for you.
Edison Mall Fort Myers
Edison Mall, located on 4125 Cleveland Avenue in Fort Myers, is one of the oldest shopping malls in the city. It was opened in 1965. Edison Mall was much smaller in the beginning, but after three expansions throughout the years, it has grown into a large super-regional shopping mall, as we know it today.
Now it is the only enclosed climate-controlled shopping mall in Southwest Florida. It hosts more than 160 retail shops. The most famous include:
Pandora
Dillard's
JCPenney
Macy's
Kay Jewelers
American Eagle
Victoria's Secret
Avon
BestBuy
Hannoush Jewelers
Claire's
Colombian Body Shapers
Edison Custom Ink
Sears
Papaya Clothing
Disney Store
Foot Locker
Firestone
Dining and entertainment options include:
Chao Cajun
Burger King
Gelateria Stefano Versace
Maki of Japan
Cinnabon
Mr. Pretzels
Starbucks
Subway
Yogurt Mountain
Edison Mall Accidents and Injuries
If you were injured at the Edison Mall, it makes sense that you would want to find the best Fort Myers personal injury lawyer to answer your questions. The possible ways in which you could get hurt at the Edison Mall include:
Car accidents at Edison Mall parking lots
Motorcycle accidents at Edison Mall parking lots
Trip and fall accidents at Edison Mall
Edison Mall slip and fall accidents
Criminal assaults due to security negligence at Edison Mall
Wrongful death accidents at Edison Mall
Escalator accidents at Edison Mall in Fort Myers
Edison Mall elevator accidents in Fort Myers
Bicycle accidents in Edison Mall parking lots
Edison Mall falling merchandise accidents
Edison Mall pedestrian accidents in walkways and garages
Injuries from such accidents can vary greatly - from scratches to some severe injuries, and occasionally, to wrongful death. The most serious injuries include, but are not limited to:
Edison Mall broken wrists, ankles, and other bones
Brain concussions and other injuries at Edison Mall
Traumatic brain injuries at Edison Mall
Scars sustained at Edison Mall
Spine injuries suffered at Edison Mall
Skin burns caused at the Edison Mall
Jaw injuries suffered at the Edison Mall
Edison Mall dental injuries from accidents
Edison Mall accidents causing neck injuries
Whether your injury is serious or not, you have the right to consider making a claim for compensation. Someone else has negligently hurt you and now that negligent party should be held accountable. Our Edison Mall accident attorneys may help you recover for any or all the following:
Medical bills, such as visits to doctor, stays in hospital, surgeries, etc.
Medical devices bills
Medication expenditures
Compensation for stress, suffering, pain, and emotional harms due to the accident
Compensation for scarring and disfigurement
Funeral costs, in case of the wrongful death of a loved one
Loss of financial support for members of the family, if the injured or deceased person is unable to support his or her family due to the injury consequences in certain cases.
Lost wages, if you are not able to work due to the injuries
Loss of the ability to earn money in the future if properly supported by the evidence
What to Do After Your Edison Mall Accident
If you have sustained injuries at Edison Mall in Fort Myers, it is best to know the right thing to do after the accident. When it comes to recovering from the injury, here is what we can advise you to do:
Take care of your injuries. If you need urgent medical help, ask someone to call an ambulance or to take you to hospital immediately.
Report the accident to the mall manager or employee. They should write a report of the accident. Ask for a copy of this report.
Take contact information of any witnesses of the event. They could help you prove your case later in the procedure.
Try to determine the cause your accident. Make sure it is included in the accident report.
Save your shoes and clothes in a zipped plastic bag. Your Edison Mall accident lawyer may want to test it later to prove the cause of your accident and injuries.
Take photos and videos of the scene. They could serve as evidence as well, but the mall management may not do it for you.
Call an Edison Mall accident lawyer. It is possible that you will be approached by an Edison Mall insurance company with an offer for settlement. Do not accept it before speaking to an attorney. Most often, these offers are not enough to cover for all your harms and losses due to the injury. A good lawyer will be able to advise you if it is a fair offer or not.
Liability for Accidents in Edison Mall
Establishing liability for your injuries properly is one of the keys to successful financial recovery. If you do it wrong and you claim damages recovery from the wrong potential defendant, in the end, you'll not only lose the case, but you may have to pay for the defendant legal fees and expenses. That's why it is wise to talk to a lawyer first.
It is often not clear as to who or what corporation may be liable for your personal injuries. In Edison Mall accidents, the mall may be liable under the Florida premises liability laws. These laws require them to provide a reasonably safe environment for shopping, dining, and entertainment. When Edison Mall breaches that duty due to negligence, and that causes accidents and injuries consequently, they can be held legally responsible for paying for the damages of the injured person.
However, there are plenty of stores and restaurants in Edison Mall that are just tenants there. It's not the mall that controls their premises. Each one of them oversee their own premises, hence the liability for injuries sustained may rest with the individual store owner.
Wherever your accident has occurred, don't rush to represent yourself. Instead, call the best Fort Myers personal injury lawyer you can find and get the answers to your questions. You owe it to yourself and your family. Don't be a silent victim - call us for your free consultation.
Edison Mall Accident Attorneys
Our bilingual Edison Mall accident attorneys at the Wolfson Law Firm are available to help good folks who were injured in an accident at Edison Mall in Fort Myers. Call (239) 777-9954 for a free consultation. We don't ask for fees unless we recover compensation for you.
The Wolfson Law Firm is situated at 3049 Cleveland Ave #140, Fort Myers, FL 33901 and serves the Southwest Florida towns and communities of Fort Myers, Alva, Saint James City, Boca Grande, Lehigh Acres, Bokeelia, Sanibel, Cape Coral, Bonita Springs, Captiva, Estero, Fort Myers Beach, Pineland, North Fort Myers, Naples, Everglades City, Marco Island, Golden Gate, Lely Resort, Goodland, Immokalee, Chokoloskee, Island Walk, Lely, Vineyards, Naples Manor, Plantation Island, Orangetree, Pelican Bay, Naples Park, Ochopee, Pine Ridge, Verona Walk, Ave Maria, East Naples and North Naples.