Storefront Car Crashes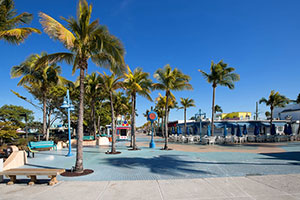 The sunny skies and white sandy shores of Fort Myers attracts families and retirees to this laid-back beach community. Located on the Gulf of Mexico, visitors often flock to this seaside town to relax on the beach and enjoy the scenery of the sunsets. With a population of 77,146, Fort Myers is racially and ethnically diverse as 47.8% of its residents are white, 27.2% are African American, and 21.4% are Hispanic. The city offers family-friendly residential neighborhoods full of parks and schools.
Fort Myers is an active community with plenty of restaurants, coffee shops, and cafes, as well as retail and specialty shops. With so many stores, office, and commercial buildings, the location of parking spots as well as roads about the buildings, must be planned properly to prevent cars from driving through windows, walls, or pedestrian pathways.
The Storefront Safety Council estimates that at least 60 accidents occur throughout the country each day due to drivers hitting the walls or windows of buildings. The most common causes of these storefront accident are the result of operator error, such as travelling the wrong direction or pulling in too far to parking spots.
Fort Myers Storefront Accident Attorneys
Studies around storefront accidents estimate that at least 4,000 people sustain serious injuries as the result of cars crashing through windows or the walls of buildings. Victims often incur high medical bills and may need continuing care to recover from their injuries. Making matters worse, many lose their income due to an inability to work. If you or someone you love was injured in a storefront accident involving a car or truck, you may be entitled to compensation. Contact the personal injury attorneys at Wolfson & Leon for help. Our attorneys can answer your questions and help you to navigate the complexities of a storefront accident.
The personal injury attorneys at Wolfson & Leon serve the residents of Fort Myers in many ways including;
Fort Myers storefront accident personal injury lawyer
Operator error storefront crash personal injury attorney in Fort Myers
Fort Myers pedal confusion car crash personal injury lawyer
Grocery store automobile accident personal injury lawyer in Fort Myers
Fort Myers car crash personal injury attorney
Distracted driver storefront accident personal injury lawyer in Fort Myers
Fort Myers pedestrian walkway accident personal injury attorney
Texting and driving storefront accident injury lawyer in Fort Myers
Fort Myers mall car crash accident personal injury attorney
Lawyer for victim injured by a car crashing into a storefront window in Fort Myers
Attorney for car accident injury resulting from a driver failing to stop when parking their car
Automobile accident caused by a driver rear-ending another vehicle in a Fort Myers parking lot
As an accident victim, you have rights. To find out what compensation you may be entitled to, contact Wolfson & Leon at (239) 777-9954 for a free consultation.
Common Causes of Storefront Accidents
The most common causes of storefront accidents result from operator and pedal errors. Confusing the gas pedal with the brake, putting the car in drive instead of reverse, items getting stuck under the brake, or failing to stop when pulling into a parking spot can result in cars and trucks driving through windows and walls of buildings. Other causes include drivers who are distracted with cell phones and texting or drivers who are under the influence when operating their vehicles. They can confuse pedals or fail to stop, driving through pedestrian walkways or hitting the side of a building. Drivers may swerve to avoid an oncoming car or accident, thus losing control and careening into a building or window.
Other times, cars can crash into buildings that are located too close to the road. In some cases, accidents occur when cars stop by the curb to drop off or pick people up. Either they fail to stop properly or they may be rear-ended from behind, pushing them into the windows and walls of a building.
Fort Myers Personal Injury Law Firm
For over 55 years, Wolfson & Leon has defended the rights of car accident victims. We work with insurance companies and legal teams to represent our clients.
With offices located in Miami, Fort Lauderdale, West Palm Beach, and Fort Myers, Wolfson & Leon proudly serves clients in the South and Central Florida region, including the cities of Key West, Naples, Cape Coral, Lehigh Acres, Hialeah, Sunrise, Boca Raton, and Tampa. Victims who have been injured in a storefront crash should call the Fort Myers storefront injury lawyers at Wolfson & Leon at (239) 777-9954 for help.