Naples Walmart Accidents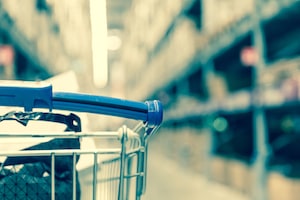 Calling the best Walmart accident lawyer serving Naples seems most logical if you were seriously injured. But how to find that attorney? Maybe family and friends. Or you can just do your own research for online reviews. At Wolfson & Leon, we have defended the rights of injured victims in Florida since 1963. We litigate cases against Walmart throughout the state. We will gladly answer your questions free of charge. Just call us at (239) 777-9954 any time of day or night. Let us give you the answers and information that you need after your Walmart accident. Call now -0 we can help.
Walmart can offer the widest variety of products and services under one roof. With this abundance of variety, also comes the heightened chance for being the victim of an accident. If you have been injured or hurt in any way at a Walmart in Naples, you should consult with the best Naples personal injury lawyer you can find as soon as possible. Recovering damages from Walmart can be a difficult task. The first few steps after the accident are crucial for proving that you were injured due to the negligence of Walmart.
It is important to get on the right track right from the beginning because the burden of proof is on you as the one making the claim. You're the one that must prove that someone else is liable for your injuries and that you should be compensated for that. Do you know how to prove that? If not, call our Naples Walmart accident attorneys at Wolfson & Leon for help. You can call us at (239) 777-9954 for your free consultation. You pay nothing until we recover for you.
Naples
Naples is a small city, yet the largest in Collier County. It lays on the Gulf Coast, next to North Naples on its northern border, and East Naples on the east. Naples is well connected with Fort Myers and Miami through the Interstate 75 Highway (Alligator Alley) and the Tamiami Trail.
Naples is a city of millionaires. It has only 22,000 residents, but many of them have accumulated significant wealth, making the city the sixth-wealthiest in the United States. The median family income is $102,000 and the per capita income is at $61,000. It also has the second-largest concentration of millionaires per capita in the United States.
The City of Naples earns money mostly from ecotourism. Ecotourists go there to visit the Everglades and the Ten Thousand Islands, but there are other interesting historic points of interest, such as The Naples Players, Theatre Zone and the Naples Botanical Garden.
Walmart in Naples
Walmart has a strong presence in Florida. They are all over the Sunshine State, which comes second on the list of US states with most Walmart stores just behind Texas. In Naples, there are six Walmart stores. They can be found on the following locations:
Walmart Neighborhood Market at 5010 Airport-Pulling Road
Walmart Supercenter located at 9885 Collier Boulevard
Walmart located on the 3451 Tamiami Trail
Walmart Supercenter at 6650 Collier Boulevard
Walmart Supercenter located at 5420 Juliet Boulevard
Walmart Supercenter located on 11225 Tamiami Trail
Naples Walmart Accidents and Injuries
If you have been injured in a Walmart accident in Naples, it is possible that it was caused by one of the following negligent actions:
Falling merchandise accidents in Naples Walmart
Slip and fall accident in Walmart in Naples
Food poisoning from improperly prepared food in Walmart in Naples
Improperly maintained or missing/broken floor mats at Naples Walmart
Naples bicycle accidents in Walmart parking lots
Car accidents at Walmart parking lots in Naples
Motorcycle accidents in Walmart parking lots in Naples
Unsecured merchandise accidents in Walmart in Naples
Cuts and lacerations from broken shopping carts in Walmart in Naples
Naples trip and fall accidents at Naples Walmart
Pedestrian accidents on Walmart parking lots in Naples
Negligent security resulting in serious injuries or death at Walmart in Naples
Walmart crime victims attacked or assaulted in Naples
Naples Walmart Accident Attorneys
The Naples Walmart accident attorneys at Wolfson & Leon are available for free consultations at any time. Call us at (239) 777-9954 and learn about your options and your compensation options. We handle cases on a contingency basis, so you'll pay us no fees unless and until we recover for you.
Wolfson & Leon is at 3049 Cleveland Ave #140, Fort Myers, FL 33901 and serves the Collier County communities and towns of East Naples, Lely Resort, Golden Gate, Pelican Bay, Everglades City, Ave Maria, Marco Island, Verona Walk, Goodland, Ochopee, Chokoloskee, Vineyards, Naples Manor, Pine Ridge, Naples Park, Island Walk, Orangetree, Lely, Immokalee, Plantation Island, North Naples and Naples.