How to Find the Best Fort Myers Slip and Fall Lawyer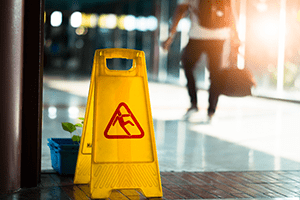 When injured in a slip and fall accident in Fort Myers, you need the best Fort Myers slip and fall lawyer to fight for your interests. The question now is how to find the one that perfectly fits your needs and interests. Make no mistake - the decision is an important one.
The Fort Myers slip and fall lawyers at the Wolfson Law firm have represented injured slip and fall victims against large corporations, small companies, and their insurance companies. Since 1963, we have helped many good folks from Florida recover financially for their injuries. If you need a Fort Myers slip and fall lawyer now, call us at the Wolfson Law Firm at (239) 777-9954 for your free consultation. You don't pay fees unless we recover for you.
Finding the Best Fort Myers Slip and Fall Lawyer for Your Accident and Injury
If you can't decide who is the best lawyer for your case, here are few tips to help you make your mind:
Ignore the commercials and billboards. If a lawyer is on a billboard or on some TV commercials, it doesn't have to mean that he or she is the best one. Anyone can buy advertising space and show up everywhere you turn, so if you want to entrust the case in the hands of a good lawyer, you should investigate further. Instead, we suggest looking up in Google search results and recommendations.
Check out the lawyer's expertise. You must be sure that your lawyer has an expertise in slip and fall cases and personal injury. You don't need a Jack of All Trades who picks up every case that appears on his desk. You need someone who has walked the way to recovery for his or her clients for many times. You don't need someone who will learn the business by working on your case. You can be more certain that a lawyer has expertise in slip and fall and personal injury cases if that attorney devotes much of his or her practice to those types of cases.
Check out the results of the Fort Myers slip and fall lawyer you consider. Successful lawyers post their results on their websites. They have nothing to hide. If you consider a lawyer that hasn't shown his most recent results, ask him to do it. The answer can help you make up your mind whether you'll hire that attorney or not.
Check out if there are any disciplinary measures against your lawyer. That's also part of your due diligence. You'll find this information by looking up the lawyer on the Florida Bar.
Check out if the lawyer has the necessary financial resources to present your case. Most law firms handle the slip and fall cases on contingency basis, which means that they finance all the actions necessary to win the case, and if they win they get reimbursed. Your personal injury law firm should have the resources necessary to finance your case from beginning to end so that you are not forced into a settlement that you shouldn't have to accept.
Check out when was the last time when your lawyer went to trial. Some lawyers never go to jury trial. Some never go to trial and others haven't tried a case for years. Some firms refer cases out to other firms for litigation. Insurance companies know who goes to trial and who doesn't. Hence, lawyers who don't try cases can have a poor negotiating position and may not be a good option for your case. You need a lawyer who will stand by your side from the beginning till the moment when you get the compensation you deserve.
Fort Myers Slip and Fall Attorneys Helping Injured Victims
If you are in need of a Fort Myers slip and fall lawyer, call us at the Wolfson Law Firm for free and confidential consultations. We are here to help you. We don't refer cases to other law firms. Instead, others refer cases to us for litigation and trial. You can reach us anytime at (239) 777-9954 for your free and confidential consultation.
The Wolfson Law Firm is at 3049 Cleveland Ave #140, Fort Myers, FL 33901. In Lee County we serve the towns and communities of Fort Myers, Sanibel, Cape Coral, Three Oaks, San Carlos Park, Pine Manor, Burnt Store Marina, Lehigh Acres, Pineland, Fort Myers Beach, Bokeelia, Gateway, Fort Myers Shores, Lochmoor Waterway Estates, Iona, North Fort Myers, Captiva, Charleston Park, Page Park, Bonita Springs, Palmona Park, Cypress Lake, Alva, Harlem Heights, Estero, Pine Island Center, Buckingham, St. James City, Tanglewood, Punta Rassa, Boca Grande, Matlacha, Suncoast Estates, Matlacha Isles-Matlacha Shores, McGregor, Olga, Tice, Babcock Ranch, and Whiskey Creek.