Fort Myers Auto Accident Lawyer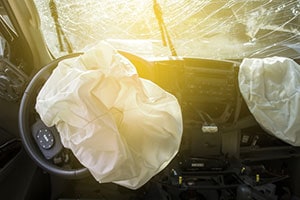 Every time you wake up, there is a fair chance that six to seven accidents are going to occur that day. That's what statistics say - more than 2100 car crashes annually, with more than 1500 injured folks. If you are one of these people, call the Fort Myers auto accident lawyers at Wolfson & Leon for assistance. If the accident happened due to the negligence of another, you may be entitled to damages compensation for your injury-related expenses. We offer free consultations at (239) 777-9954. You can call us at any time to explain to us your case and get free advice on your options. We will explain to you what comes next for you to the best of our knowledge at no charge. Please keep in mind, that we never ask for fees until we recover monetary compensation for our clients. We charge only when we financially recover for you.
Fort Myers Auto Accidents
Most auto accidents in Fort Myers occur in the rush hour between 4 pm and 6 pm from Monday to Friday. That's the period of the day when people are leaving work and go home for dinner or somewhere else to do some chores. They are in a hurry all the time, hence the large concentration of car accidents at that time. Being in a hurry is not the only factor leading to an increased number of car accidents. Take a ride on Fort Myers roads, and you'll notice that many people talk on the phone or text while driving. They are simply too distracted to drive safely and that inevitably result in accidents and personal injuries.
According to our Fort Myers car accident lawyers, the most common causes of car accidents in the city include, but are not limited to:
Distracted driving
Drunk driving
Driving under influence
Reckless driving
Tailgating
Violation of right-of-way
Speeding
Wrongful overtaking
Improper lane changes
With so many different causes leading to accidents, it comes as no surprise that drivers get involved in crashes even in the middle of the night when there are very few vehicles on the streets. Even with the most defensive-minded drivers, car accidents still happen in Fort Myers.
How Our Fort Myers Auto Accident Lawyers Can Help You
We know that recovering from injuries due to an auto accident is a traumatic experience that you'll remember forever. It is difficult for you now, but it doesn't mean that you should give up on monetary recovery. You have injury-related expenses and possibly lost wages now, and you'll have in the future. That can make your situation worse.
In a situation like yours, it will be tempting to accept an early offer by the insurance company. However, as experienced Fort Myers auto accident lawyers, we always advise our clients not to accept it before talking to a lawyer. It will rarely be enough. They know that you haven't talked to a lawyer yet and wanted to take advantage of it. But you shouldn't let them get away with that tactic. Instead, call us now, tell us about your case and let us build a strong case for you before negotiating with them.
We always gather all the necessary evidence to support our claims before meeting with the insurance company. When we submit sufficient and persuasive evidence, they are more likely to settle for an amount you deserve. It brings less delays, less negotiations, and brings you to full financial recovery as soon as possible.
If you still hesitate to begin the process, then call us for free consultations. They bring no obligation to hire us. It will help you learn about your options and make an informed decision about what to do next. Then, if you decide to pursue damages recovery with us, you'll pay nothing unless we recover for you. Call our Fort Myers car accident lawyers at (239) 777-9954 today.
Wolfson & Leon serves Fort Myers and the rest of Lee County, including Cape Coral, North Fort Myers, Sanibel, Marco Island, Captiva, Estero, South Fort Myers, Immokalee, Golden Gate, Fort Myers Beach, Goodland, Collier and Lee Counties.