Car Accident Lawyer in Fort Myers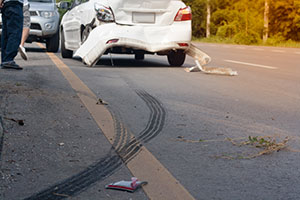 If you were seriously injured in any type of auto accident in Fort Myers, then you should call the Fort Myers car accident lawyers at Wolfson & Leon for help. Since 1963, our personal injury attorneys have fought for injured victims and the surviving family members of wrongful death accidents. Don't hesitate to call us for your free consultation at (239) 777-9954. We don't charge fees until we recover damages for our clients.
Traffic and Accidents in Fort Myers
In 2016, Lee County reported 11,828 traffic accidents, resulting in 105 deaths and 7,570 injuries, up from 2015 statistics of 10,425 traffic accidents, resulting in 95 deaths and 6,751 injuries. Traffic statistics for Lee County report a motor crash fatality rate in 2017 of 128 per 100,000. This rate has steadily increased since 2010 when the fatality rate was 71. In 2017, there were 97,731 non-criminal moving violations and 9, 978 criminal violations issued in Lee County. One of the most dangerous intersections in Fort Myers is located at US 41 and Daniels Parkway. Over a five-year period, this intersection had the most crashes in Fort Myers, with 82 occurring in 2014. Other highly travelled and dangerous intersections include US 41 / Pine Island Road, and US 41 / College Parkway, as well as various intersections in Fort Myers Beach.
With the increase in population as well as the uptick in seasonal visitor traffic, travelling in Florida can be precarious. Lee County conducts regular traffic counts and studies, noting that motor vehicle crashes often occur during specific times. The highest incidents of traffic accidents occur between 4:00 PM and 6:00 PM, Monday through Friday. Following this is the period of 12:00 PM – 3:00 PM and 6:00 PM – 7:00 PM. Weekend accident occurrences happen far less frequently. On average, Friday afternoon at 4:00 PM is considered the worst time for accidents. In comparison, Tuesday at 3:00 AM is considered the safest time.
In addition, a national report on pedestrian accidents listed the Cape Coral-Fort Myers Metropolitan area as the deadliest. Reasons cited for this ranking include the older age demographic, as well as extreme growth, coupled with insufficient infrastructure planning.
Fort Myers Car Accidents
If you were severely injured in an auto accident in Fort Myers, you should consult with the best Fort Myers car accident attorney you can call as soon as possible. It can enhance your chances for successful damages recovery. It is possible that an insurance company will approach you with a settlement offer, but you shouldn't accept it before talking to a Fort Myers personal injury lawyer. Just one call to an experienced Fort Myers accident lawyer could make it clear for you that this is may not be the compensation that you deserve. All too often, insurance companies will just try to get rid of you with these quick offers. In fact, in the industry such offers are known as "nuisance offers" because your claim for personal injuries is viewed as an annoyance or nuisance to the insurance company. They would rather resolve your claim for a small amount of money that makes sense to them in a cost/benefit analysis. Make no mistake about it – nuisance offers have nothing to do with the full value of your injuries and damages.
To avoid becoming a victim of an insurance company strategy, contact our car accident attorneys in Fort Myers and we will help. We can let you know, free of charge, whether the insurance company's nuisance value offer is fair. If it is, you can go and accept it after your free consultation with us. But if that offer fails to properly reflect the fair value of your damages and injuries, then our Fort Myers accident attorneys can provide you with a plan of action to pursue complete compensation that you deserve.
If we find that the accident happened due to someone else's negligence, we will work closely with your doctor and other experts who can prove that you have sustained serious injuries and significant damages. Once we build your case, we will propose a settlement demand to the insurance company. If they accept it, then you'll recover in the fastest possible time. If they employ delay tactics or don't respond at all, we will file a lawsuit on your behalf. We will litigate your Fort Myers car crash case and proceed to mediation or trial, if necessary, to help you get the compensation that you deserve.
At Wolfson & Leon, our bilingual Fort Myers car accident lawyers are available to act on your behalf as:
Rollover car accident lawyer in Fort Myers
Fort Myers automobile accident attorney involving Lyft Drivers
Fort Myers motorcyclist rear-end crash lawyer
Sideswipe and merging car accident attorney in Fort Myers
Fort Myers Uber accident injury lawyer
Left turn accident lawyer in Fort Myers
Fort Myers T-bone car accident attorney
Head-on car accident attorney in Fort Myers
Injury lawyer for Fort Myers car accident involving Uber or Lyft Drivers
Auto-Pedestrian injury accident attorney in Fort Myers
Fort Myers wrongful death car accident attorney
Fort Myers rear-end collision injury attorney
Drunk driving car accident and injury lawyer in Fort Myers
Fort Myers road rage car accident attorney
Fort Myers bridge car accident and injury lawyer
Fort Myers car accident law firm
Car accident personal injury law firm in Fort Myers
Fort Myers Automobile Accident Attorney
Don't go through this alone. It is never easy to handle large corporations such as insurance companies on your own, without the necessary knowledge and experience. Instead, call our car accident attorneys in Fort Myers at Wolfson & Leon for your free consultation at (239) 777-9954. Let us clarify your options and answer the questions that you have so that you can get the justice and the compensation that you deserve. Call our Fort Myers personal injury attorneys now and let's get to work. We never ask for fees until we recover for you.
Our Fort Myers accident lawyers serve all of Southwest Florida including Cape Coral, North Fort Myers, Lehigh Acres, Bonita Springs, Estero, Naples, Captiva, Sanibel and Golden Gate.
FAQ
I Was Seriously Hurt by a Driver Who ran a Red Light. Can I Sue for Damages?
If you have severe injuries from a car crash that was not your fault, it may be possible to get damages to pay for your emergency room visit, hospital stay, and medical treatment. If the injuries are severe enough to prevent you from working, you may be able to recover wages that were lost while you were recuperating. If the injuries are permanent or life-altering, you may be entitled to recover damages for pain and suffering and in-home or continuing care. If your injuries are extensive enough where they may impact your future ability to earn a living, you may also receive monetary damages to compensate.
If I Share Partial Blame for a Car Crash, can I Still Recover Monetary Damages?
Even if you share part of the blame for a car accident, you might be able to recover money if your injuries are severe. Florida follows the rule known as "compensatory negligence." Under this rule, monetary damages that are awarded to an accident victim are reduced by their at-fault percentage. Compensatory damage means that if you were found to be 25% to blame for a car crash, any monetary compensation awarded to you would be reduced by that amount.
How do I Find a Good Fort Myers Car Accident Lawyer?
It's essential to find the best lawyer in Fort Myers to represent your rights to the insurance company. Many times, people try to settle directly with the insurance company to get a quick payout to cover their bills. But if the insurance company offers a lowball settlement to keep their costs low, you can easily end up not having enough money to pay for your medical expenses. Car accidents may involve complexities that you may not be aware of, so you should choose a personal injury lawyer that regularly defends cases such as yours. You want an attorney that is skilled at negotiation and knows personal injury law. Take the time to question your attorney about their experience and what you can expect from them throughout the process. Be sure to take the time to understand how long the process may be and how the firm's fee structure works. Asking questions helps you decide on the best Fort Myers car crash lawyer to represent you.