Cape Coral Bicycle Accidents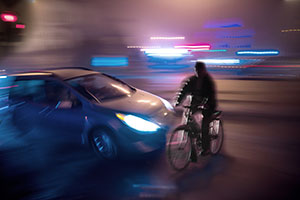 In case your rights were not respected and you ended up injured in a bicycle accident in Cape Coral, don't hesitate to call our Cape Coral bicycle accident lawyers at (239) 777-9954. You may be entitled to claim compensation for your injuries. We will help you determine if that's possible and explain your legal options to move forward.
Being injured in a bicycle accident in Cape Coral is a disturbing experience. If you were the one riding the bike, you may have been hurt badly. Cyclists are exposed to huge risk of injuries and even death when in traffic. They don't have the protection of the chassis and airbags that car drivers have. Moreover, they are often the least respected traffic participants. Angry motor vehicle drivers often behave as if bicyclists shouldn't be on the road and show aggression toward them. Unfortunately, that aggression sometimes leads to bicycle accidents. Lee County is third by the number of bicycle accidents in Florida, and in many cases, it's the fault of automobile driver.
We at the Wolfson Law Firm think that it shouldn't be that way. Bicyclists should be allowed cycle without the fear of getting injured or killed on the road. In most cases, if the driver of a car simply drove defensively and carefully then the serious bicycle accident could be avoided. But when people are injured in a bicycle accident it makes sense that they would want to speak with the best Fort Myers personal injury lawyer that they can call.
Cape Coral Bicycle Accidents
Cape Coral is a city of many canals; many of them are navigable, but people still use bikes to commute from one part of the city to another. There are 180,000 people living there. Often time, people from neighboring cities and communities, such as Fort Myers, Lehigh Acres, North Fort Myers, and others, also flee to the city for different reasons. When they are involved in a bicycle accident, it is can include one of the following:
Sideswipe and Merging Bicycle Accidents in Cape Coral
Cape Coral Bicycle Accidents with Uber Drivers
Cape Coral Bicycle Accidents with Lyft Drivers
Left Turn Bicycle Accidents in Cape Coral
Cape Coral Road Rage Causing Bicycle Accident
Cape Coral Wrongful Death Claims Due to Bicycle Accidents
Cape Coral Bicycle Accidents Involving Bus Drivers
Bicycle-Pedestrian Injury Accidents in Cape Coral
Cape Coral T-bone Bicycle Accidents
Head-on Collisions with Bicycles in Cape Coral
Serious Bicycle Accidents in Cape Coral
Cape Coral Bridge Accidents with Bicycle Riders
Cape Coral Rear-end Collisions with Bicycle Riders
Drunk Driving Accidents Injuring Bicycle Riders in Cape Coral
These are not all the possible bicycle accidents occurring there, though. Cyclists can get injured or killed on Cape Coral roads and streets in many different ways, so if your accident is not listed here, it doesn't mean that you can't claim damages. Call our Fort Myers personal injury lawyers and we can discuss the possibilities to get you the compensation that you deserve.
Cape Coral Bicycle Accident Lawyers
Injuries sustained from a bicycle accident where you were struck by a vehicle, can be accompanied with many medical bills and a lengthy recovery. You'll have expenses due to your accident and injuries, so you owe it to yourself and your family to investigate and pursue all potential avenues of compensation. If you have been injured due to someone else's fault then you have the right to seek fair compensation. You can be compensated for your medical and medical devices bills, pain and suffering, medications, loss of wages, and other injury-related costs and expenses.
Our Cape Coral bicycle accident lawyers here at the Wolfson Law Firm can help you. We have helped injured victims throughout Florida since 1963 and we are here to assist you as well. Just call us for free, no-obligation consultations at (239) 777-9954 and we will determine your path to recovery together. We don't ask for fees unless we recover for you.